Are You Looking for Lace Toupee for Black Men?
Views: 1286
Lace toupee for black men can also be extremely comfortable! The need for toupee is huge among black men or women. If you are looking for a super comfortable and natural-looking toupee, lace toupee should be your first consideration! You may be wondering why, hope this article can sweep away your doubt. 
The high quality and subtle ventilating technique enable you to find natural-looking toupees anywhere. The lace toupee is a very proper option for people all over the world. You can see many fashion icons or divas wearing this kind of toupee and they all look so amazing. The hairstyles are various from straight to curly hair. 
Want to try a toupee with unique hair color?
It is known to all that black people are born with curly hair. The Afro toupee for black men is extremely popular. This kind of Afro lace toupee for black men is made of different kinds of styles. The hair length is around 7 to 9 inches for black men. If you are wearing this kind of toupee, you can always choose different hair colors to make it pop. 
You may think hair colors for dark-skinned people are limited. This is not true. Dare to try different colors! There is a wide range of hair colors that will look great on you if you are black. Pink, light blue, or any unique colors can always help you shine among the people. You can try some of them to see if you can manage the color.
Which black men's lace toupee is better?
No matter what kind of toupee you are wearing, you may need to choose between hair types, like human hair and synthetic fibers. Toupees can help you cover the bald spot or try new looks. When you are choosing the toupee, you can try different hair types, hairstyles, hair colors, or you can customize your own style. 
Synthetic hair Afro toupees are popular due to their cheap prices. They are durable so can use straighteners and curling irons to style different hairstyles. If you do not have too much budget, you can try this type of toupee.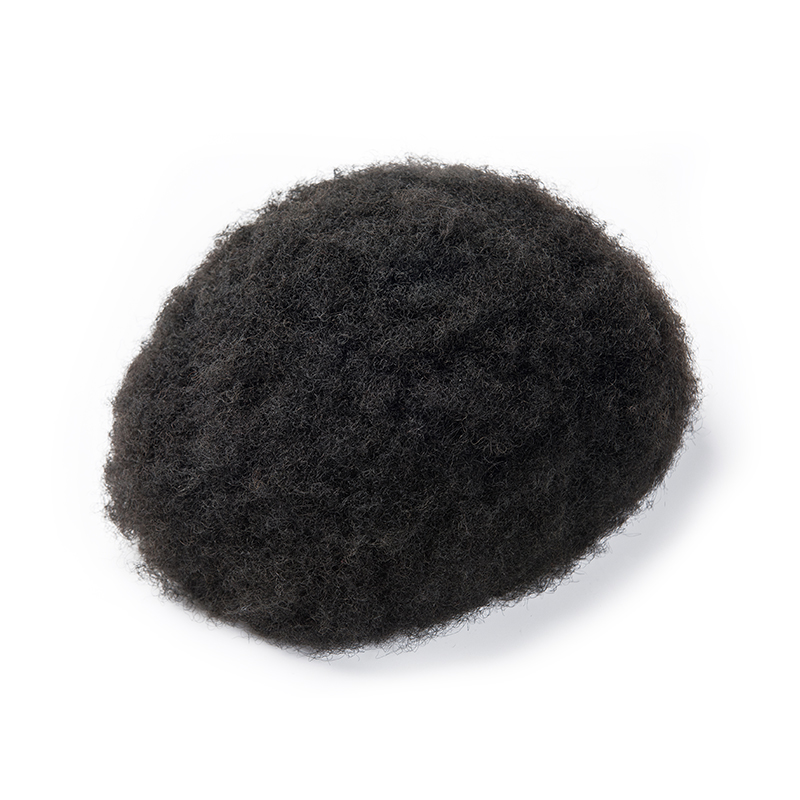 The Afro toupee that is made of human hair is still the best toupee for everybody due to its natural-looking and breathable wearing performances. Human hair is more soft and natural. But the cost is higher, you may need to spend at least $400. This type of lace front toupee for black men is worth a try. 
Popular black men hairstyles examples
Like we just said, lace toupee is of a wide range. If you are looking for some on-trend fashion men's haircuts, below we will give you some examples. These haircuts are easy-styling, good-looking, and comfortable wearing. You can have a try. 
1. Short Brown Afro Curly toupee is also a perfect choice for black men. If you want to amaze people with a stunning look, try this toupee! If you want to look more special, try with a different color than black or brown.
2. Kinky curly hairstyle looks so good on black men. This eye-catching hairstyle is super vintage and is worn by many superstars. If you wear this frizzy lace toupee with unique colors you can create a fancy look effortlessly. If you are looking for a classic toupee hairstyle, you should try this one!
3. Mono Afro curly hairstyle is the best-known haircut among black people. If you want a hairstyle that is not that special or not that regular, this is your call! Mono Afro is really a popular hairstyle that is worn by many men. 
The above are just some popular black men's hairstyles we want to show you. If you want to dig in other kinds of hairstyles, you can check our other articles or product pages to have a look. You can try some of our toupees to build the style sense first. 
Black men's lace toupees are never out of style. Black celebrities are so handsome looking! Thanks to them, you can always find your ideal look to copy. The lace toupee for black men is not only for African American people but also for people of other races. Fashion icons and celebrities build a world of dashing items among young or elder peers. If you are not sure what to wear, try different toupees!
---