Some Recommendations for You to Look for the Best Hair Piece for Men
Views: 769
Looking for the best hair piece for men near me? Based on my experience, I recommend the toupees from Lavivid. We all know the problems that baldness brings to us. Finding the right toupee is important. I would like to share my experience on purchasing and wearing a hair system for men in the following article. 
Personally speaking, I do not like shopping on the street except it is a nice day and I am in a good mood, but I find out that to buy a suitable hairpiece for myself or my families, it is necessary to visit the store selling hair piece for men near me. If you get to know hairpiece for the first time, you need to know what it is and how does it work. 
To put it simply, wigs, hair toupees, and hair extensions, be they synthetic or real are all types of hairpieces. They are solutions created to solve the problem of hair loss. As a person suffering from baldness in middle age, I have tried many methods to get my hair back. 
I cannot afford the expense and risk of taking a hair transplant surgery, so I first tried wigs. Though many wigs are pretty good-looking, they are just like hats, hot and unbreathable to wear. They are suitable for people having lost their all hair to wear while I just lose some of my hair on the head top. Therefore, I turn to the help of hair toupees. 
Wearing men's hair toupees is an idea recommended by my friend. Due to the great pressure of working, he has lost more hair than me. He told me there are many sorts of toupees sold in the market. Many quality hair replacement systems can give you a natural hairline and undetectable appearance. 
He recommended the store Lavivid to me. I checked the store's website. All right, the products here look not bad. But I could not trust the pictures posted, so I went to the partner salons of the store that provide the replacement service of hair piece for men near me. After experience services in the salon, I think I have found the best approach to regain my hair.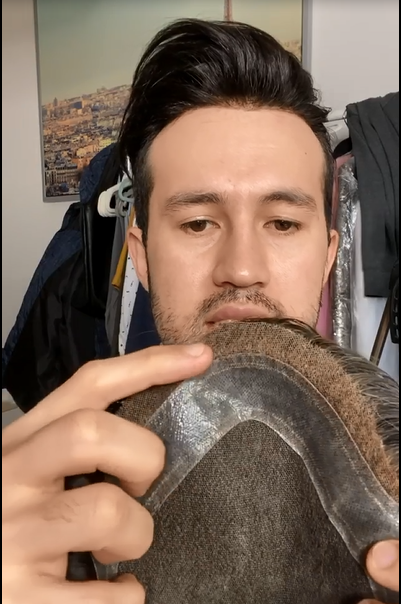 Because I do not like summer days, the breathability of hair systems is important to me. To satisfy my needs, the hairstylist suggested me wearing a lace base hair unit. I accepted. I chose a hair unit of brown dark color which matches well with my skin color. The price is within my affordability. 
The hairdresser firstly washed my head top and shaved the side part a bit. After he cleaned up my scalp, he applied a layer of a skin protector. The whole process was gentle. I almost fell to sleep. He used toupee tapes to apply the hair replacement system. Because of his proficient techniques, I did not feel any discomfort. Just like he said, the lace hair toupee is very light-weighted and breathable. 
Many designs to fix the hair unit are well hidden inside the hairpieces, so it looks very natural. I am satisfied with the service and the final result. The hairdresser told me some tips to maintain my hair system and protect my very useful skin. 
When the second time I have worn a new male hair toupee, I purchased one at Lavivid and applied it myself at home. To make sure I could wear it successfully, I consulted professional hairdressers. If you want to apply it yourself at home, you should also ask for suggestions from professionals. They will be willing to give you advice. 
It is common to encounter some problems but you need to be patient. I spent quite a long time wearing the hair unit for men. I bought the Ares Men's Non-Surgical Hair Replacement from Lavivid. Apart from asking for advice from hairstylists, I also searched some teaching videos on Youtube since I am not very good at doing handwork. Fortunately, though much time was spent, I succeeded finally. 
To conclude
If you are also troubled by the problem of baldness, I recommend you to have a try on the products of Lavivid. You can also go to find a professional salon near you to try the effect. Then, purchase hair replacements at the store. Doing the application by yourself can save some money.
---