Poly Hair System Daily Wear Tips And Tricks To Maintain Your Hairpieces
Views: 1003
Undeniably owning a high-quality toupee is itself a great investment. As it becomes part of your daily routine you need to pay close attention when it comes to taking care of your hair system. It becomes even intricate for men using Poly Hair Systems to keep these hair systems or toupees safe and enhance their longevity. 
Men with natural hair often have a simple hair care routine, but things are different for men depending on hair systems. Removing, cleaning, and reapplying become a regular part of high-quality hair system maintenance.  
And then again, to bottle the durability of a hair system, it all boils down to how much care you provide to your hair system after removing it. 
Whether you're wearing your hair systems daily or using them for extended wear, the following information will help you care for your hair system before and after attaching them to your scalp.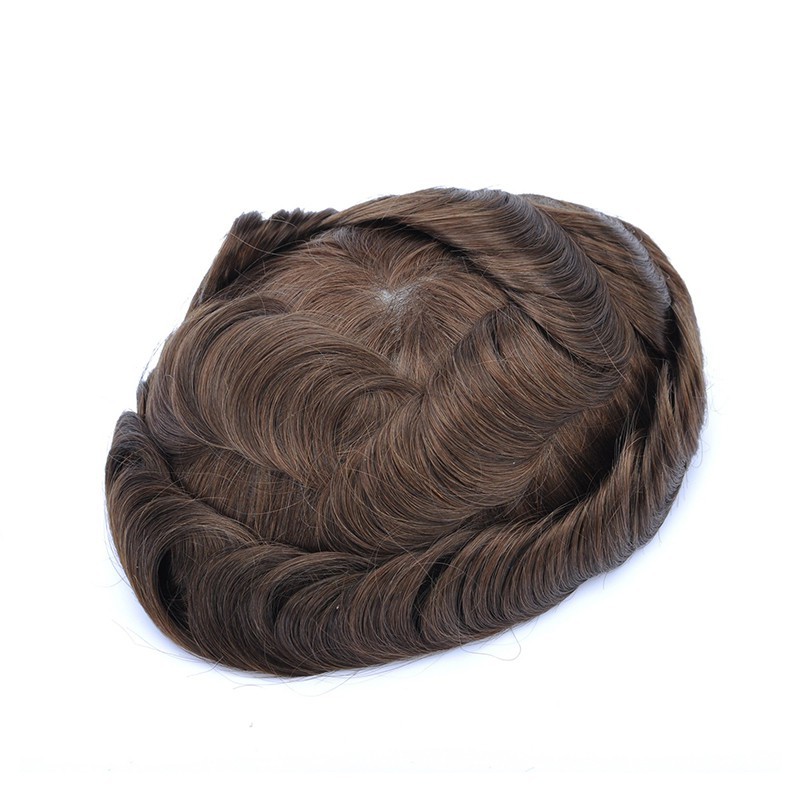 Scalp Preparation Before Attaching A Hair System: 
Not only is it essential for you to keep your hair system maintained but it is also necessary to follow proper methods of preparing your scalp whenever you attach a hair system.
-Prior to attaching the hair system, make sure to wash your scalp every time 
-Once you wash your scalp, swipe rubbing alcohol to your scalp if you are using tape to attach the system. If you have an oily scalp, then you should not try alcohol as it can initiate excessive oil production that may hinder the adhesive from adhering to your scalp. 
-If you are using liquid adhesive to attach your Poly hair system, then clean your scalp thoroughly following the procedure mentioned above and prepare your scalp for extended wear. 
-Once you clean your scalp, ensure to apply 

scalp protection products

especially if your scalp perspires a lot or if you have sensitive skin. 
Attachment Options For A Hair System
Although there can be a myriad of arrangements for a hair system, here are some tried and tested methods to use your poly hair systems daily; 
-Attach the perimeter with tape or apply the liquid adhesive on the tape; or
-Use the front of the hair system to attach the tape and clips to attach the sides with the growing hair; 
or
-Attach clips to the whole hair system and attach clip with the growing hair (no adhesive bonding required) 
For those who wear full caps where there's no growing hair underneath; 
-Start bonding the front of the hair system with tape. While using the small tabs of the tape around the hair system depending on your preferences. 
Adhesive Application On The Hair System 
Removing Tape after every use 
Of course, you don't want to lose the incredible look of your high-quality hair system. This is why it is recommended to remove the tape after daily wear and replace them whenever you want them to wear. It is also recommended if you have oily skin to prevent scalp issues. 
If you think it would be too much for your daily routine, you can apply a liquid adhesive on your day-old tape. This will allow you to have a fresh bond and to keep the tape for one more day. 
For best adhesive recommendations – Read our guide here
For poly perimeter monofilament bases
You can use low-tack red liner tape on the perimeter directly for daily wear on poly hair systems. For extended wear, you can apply a liquid adhesive on the tapes to be used for 2-3 days max. 
Clip Attachments Of The Hair Systems 
For caps with full perimeter clips 
-Comb out your hair and detangle them to rest flat on your head. Place your hair system with closed clips in the preferred position. Reaching under the system, scoop some of your growing hair in the attached clips one at a time. Once you clip all of them, recheck to find out the loose ends and secure them again to keep them in place for a longer time. 
For frontal bond caps having side and back clips 
-First, apply the scalp cleaning method mentioned above. Comb down your hair. Apply the suitable tape to the front of your hair system and place the hair system in the preferred position with the side and back clips closed. Scoop in the growing and make sure all the clips are securely closed. 
Removal Of The Hair System 
For full perimeter and front bond with clips 
-Reach out to the clips to carefully open as your growing hair can stuck on them. Snap open them cautiously one at a time. To remove the adhesive from your scalp, use your index finger and thumb to pull the bond. If the adhesive is too strong to pull off, use some adhesive removing spray, it will help remove the bond easily. 
Cleaning of your hair system 
-No matter if you're wearing your hair system daily or for an extended period, it is essential that you stick to proper cleaning methods. It will not only help enhance the life of your hair system but also prevent adhesive buildup. Once adhesive begins building up on your hair system, it will damage your hairpiece. Plus, it gets more difficult with time to remove it. Proper cleaning will allow you to have a secure attachment every time and help prolong its life. 
The poly perimeter of monofilament or Lace 
Regardless of how you use your hair system, remove the tape after every use. Glide a cotton ball dipped in rubbing alcohol to the poly perimeter area to deep clean the adhesive residue. 
Shampoo And Conditioning Your Hair System 
If you follow the cleaning techniques of your poly hair system by removing tapes and using rubbing alcohol, you won't need to shampoo your hair system every day. Only shampoo when you think it's needed. You can also look for leave-in conditioners for your hair systems to keep them detangled, fresh, and deep conditioned. 
Stay tuned for information coming in every day to bless your hair care day.  
---