Solutions for Male Pattern Baldness at An Early Age
Androgenic alopecia is also known as male pattern baldness. It is a genetic condition that is passed down through parents to children. While the condition affects both men and women, men tend to be more prone to it. Most men with the hereditary condition start suffering from hair loss by the time they reach their 30s. Often it can get triggered at an early age and move at a rapid pace. Due to hair loss being a problem for centuries, there are many well-known hair solutions for men.
Hair loss occurs due to excess of a special hormone called androgens. Androgens cause the hair follicle to get inflamed and shorten the life cycle of a hair strand. As time goes on, the hair first thins and then eventually falls out, resulting in bald spots. 
What Can Cause Excessive Hairloss
While hair loss is as natural as aging itself, sometimes it's not natural but rather the side effect of something. You must consult with a doctor about your hair before imminently deciding that the hair loss is male pattern baldness. Research says that there could be many factors contributing to ore mature hair loss. Excessive stress, extreme anxiety, or side effects of a certain medication makes a list. Sometimes, it could be just aging or a combination of more than one problem. Therefore you should consult a doctor and get a proper diagnosis before starting any treatment. 
Precautionary Measures To Prevent Further Hairloss
While the process of hair loss cannot be stopped, it can certainly be slowed down and treated properly. Instead of taking medication, there are some precautionary measures that you can take that will allow you to slow down the pace. 
Proper Hygiene and Cosmetics
Using proper hair products that are made specifically for damaged hair is a good way to heal. Thorough and regular cleaning as well as applying extra products for safekeeping will help you keep your hair from further damage and hair loss. You can also cause damage by bleaching or dying your hair; therefore, try and avoid it to ensure hair growth. 
Regular Medical Checkups
This is something that should be practiced in general anyways. Instead of ignoring early signs of excessive hair loss, try and consult a doctor right away. This will help you take the necessary steps to prevent further hair loss, as well as make sure that you're not suffering from any other medical conditions that might be causing the hair to fall. 
Nutretients and supplements
Take note of your food intake; if you notice that you lack certain food groups, try and rectify that. You could alter your diet or introduce daily supplements in your routine. Omega biotin is a well-known nutrient that helps with hair growth.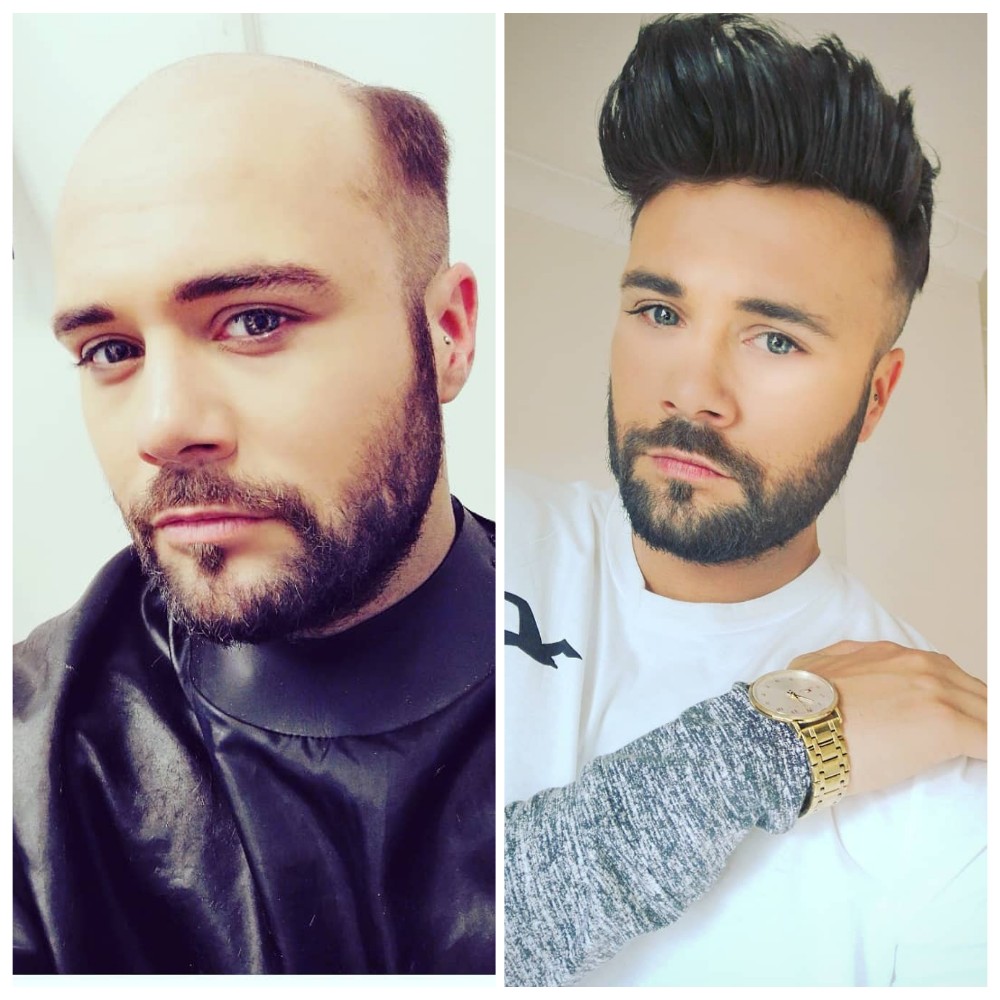 Treating Hair Fall In Young Men
There are many hair solutions for men. Through the years, people have developed different ways of dealing with hair loss but come to the same result. Hairloss is permanent and will happen no matter what. Certain methods can help deal with it. 
Drugs
There oral drugs and topical medicines. But these drugs aren't exactly successful when it comes to pattern baldness. They only work as long as you regularly consume them; moreover, it takes a long time to show any significant outcomes. These drugs also come with side effects such as swelling blood pressure and rosacea. 
Hair Transplant
Hair transplant is a well-practiced method of dealing with hair loss. It is, however, quite costly and can sometimes end up with infections or failed implants.
It involves removing some skin from the back of your scalp where the hair is abundant, removing the follicles from that strip of skin, and then reinserting the hair follicles into the part of the scalp where you're experiencing hair loss.
Hair replacement systems:
Hair replacement systems are a more advanced version of what we used to call wigs. Hair systems are made from different bases and come in many shapes and forms. These are the best way to cover up hair loss or attain a new healthy look. 
Why Are Hair Systems The Best Option For Dealing With Hairloss
Hair systems have been declared the best Hair solutions for men by the general public. They come with a list of benefits and will not only cover up hair loss but also help you achieve the look you've always desired.   
No wait time
Unlike other medications or organic remedies, hairpieces don't require a lot of time. The only effort is choosing the right piece and getting it. Once you have your hands on your hair system, you're ready to wear it.
Cost Friendly:
Perhaps the biggest hindrance in life is money. Fortunately, hair systems are not only cost-effective in general, but they also come in various qualities and types depending on the price. The price may also vary depending on length, density, and the material of the wig.
Natural and Healthy look:
Hair systems are extremely customizable and feasible. It doesn't matter how complex your requirement is; you will always find the perfect hairpiece with just the right color and texture along with your preferred base type. 
Comfort:
Depending on what you like, you can get the different bases, sizes, contours, and attachment methods to attain the utmost comfort. It will require some time and experimenting with different materials before you end up with the perfect customized hairpiece for yourself. 
To get your hair replacement system that best suits your needs, visit our online store at www.lavividhair.com.