What Should Pay Attention to If You Want A Grey Hair Toupee?
Views: 1323
Once finding grey hair was a cause for panic, it has become extremely fashionable nowadays in modern times. More than a few celebrities can be named who make grey hair seem stylish and lush, and one such well-renowned actor is Richard Gere, whose 1990 look was described by 'men's health' to have been 'delightfully grey.'
Today, the grey hair of handsome celebrity men is appealing. For example, George Clooney is considered the epitome of a 'silver fox,' a term coined for older men with grey hair and moustache, usually aged 40s to 50s. Another way that grey hair can be considered alluring is the graceful and classy salt-and-pepper look, a blend of natural hair color and grey hairs. Embracing the appearance of age can show a kind of confidence and sophistication that is quite attractive.
However, this trend doesn't run only through the men of older age groups, but even among men ranging across the youth, young adults, and the middle-aged. Younger men are compelled to join in on the latest fashion by bleaching or to die their hair to acquire this distinguished and charismatic look.
So if you are looking to embrace your age with a classy look or to get in on the latest fashion using grey hair toupees, what are some things you should know?
What are grey hair toupees?
Grey hair toupee for men is a hair replacement system for people whose hair has turned grey with age and who are facing hair loss or bald spots. They are placed on specific areas of the head so that they meld with natural grey hair to give a realistic appearance. But they are not necessarily for balding customers. Even young men can wear them if they want to achieve the smart look that is seen so often in the media.
A grey hair toupee is an excellent choice if you are going for a professional and elegant look. You will have full control and choice over what you want yourself to look like and, by extension, what image you want to present to the world.
Thus, you might want to think about what kind of toupee is suitable for you in terms of material, the shade of grey, and the form of your locks.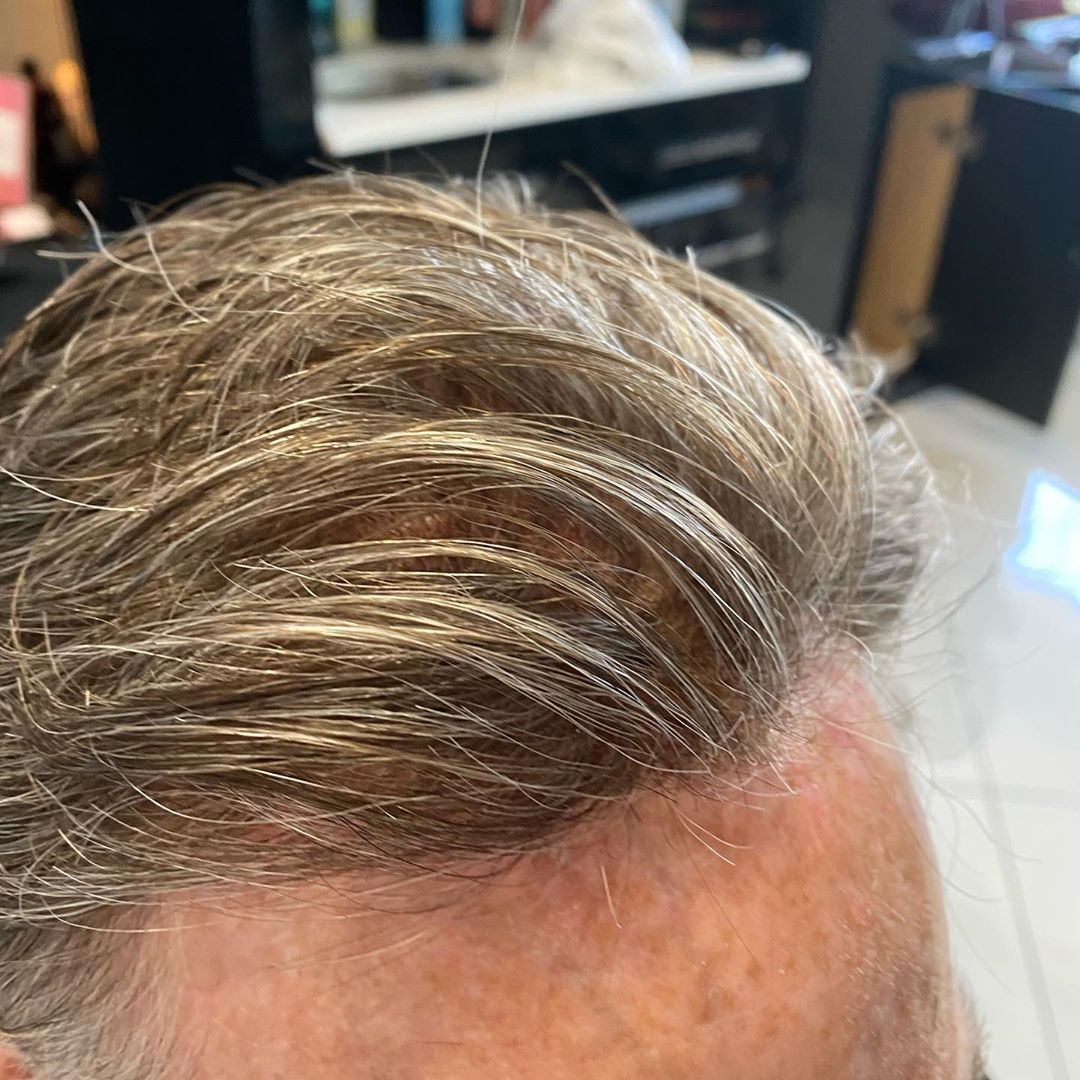 What material should you choose?
Grey hair toupees are usually available in three materials. These are synthetic hair, human hair, and yak hair.
Synthetic hairs are fine threads manufactured to resemble real hair, made of a polymer compound's chemical fiber. These may be monofilament, a single type, or a combination of two or more fibres, such as poly filament, polyester, acrylic, etc. This comes at low prices and is resistant to discoloration.
Human hair is the most popular and widely accepted type, yet it is the most expensive one due to its short supply. It is gathered from the donations of old people. Many men might prefer human hair as it is real hair. Its characteristics are flexible, resistant to heat, and easy to dye.
Yak hair is taken from an animal called yak. It is a wonderful choice due to its similarity to human hair in terms of texture, but it is thicker, harder and brighter. Like synthetic hairs, it is available at low prices compared to human hair.
What kind of toupee should you get?
When deciding on the shade of grey you want, it would be wise to choose a color that merges with the color of your natural hair so that it does not stand out and look unrealistic. Your hair might be in its early greying stages where there are only a few grey hairs, in which case a salt-and-pepper appearance might be your best option. Your hair might be cool grey, silver, or fully white, so a shade that is similar to it should be suitable for you. It may be of a curly, wavy, or straight nature, and the length of your real hair is another thing to measure when purchasing a toupee.
Grey hair toupee for men according to skin-tone
Grey color can be very striking and handsome if it goes along with your skin tone. For light skin, you might want to choose a lighter hue, such as pure white. If you have dark skin, an interspersed combination of black and white hair and a beard will look good on you. If your skin tone is warmer and somewhere between light and dark, shades like silver or steely grey might fit your style best.
How can you take care of your grey hair, toupee?
Some things to keep in mind when maintaining your grey hair toupee are the difference between human hair and synthetic hair. When it comes to being heatproof, human hair is much more efficient and does not melt. The same cannot be said for synthetic hair. Therefore, make sure to keep it away from high temperatures and take care to follow the instructions.
When combing your grey hair toupee, make sure that you are gentle, beginning from the tip to the root. If you need to, you might want to untangle any knots of your toupee with your fingers, but don't pull too hard as it can cause the hair to shed off. Do not brush it after washing when it is still wet. You can use a hairdryer if you are in a hurry but avoid any extremely hot tools. Don't sleep with it on.
Regular shampoos have a lot of harsh chemicals, which can badly damage and ruin your grey hair toupee, so it is best not to use them. There are special shampoos and conditioners for your toupee instead.
Here at the Lavivid hair store, we have the best options for you to shop for grey hair toupee. If you have any inquiries, feel free to contact us at support@lavividhair.com.
---