Swiss Laces Vs French Laces Hair System
Views: 1942
The hair system has many varieties, and the most common is Swiss lace and French lace. These are more demanding in the market due to their breathable and invisible properties.
So, some beginner's wear has confusion between the differences between the two kinds of laces. So, in this article, we hope you distinguish them more easily.
What does Swiss Lace mean? 
Basically, a swiss place is a kind of hair system made of fine material that needs lots of care and maintenance for handling. 
This lace is thin and has tiny holes, which are similar to the fine net. Swiss lace is finer than a french lace hair system. That's why this is less visible and softer as compared to other hair systems. Thus, many people prefer to use Swiss lace, and it's also easy to apply. It's out to handle medium to light hair density. Moreover, a swiss hair system has a shorter life span than a french hair system.
What does French Lace mean?
The French lace hair system is thick and stronger than other cap laces. Many experts recommend french lace hair systems to the new wearer because these are durable and easy to apply. 
Anyways both of the laces are invisible on the scalp. The thickness of lace can hold noticeable hair density and will tear quickly without helping any expert. 
The lifespan of french lace is about 4-5 months, and it will go long if you care for it properly.
Which is better, the Swiss or French lace hair system?
It depends on your usage and preference. If you want lighter, softer and invisible properties of the lacing system, go with Swiss laces. Otherwise, if you want durable, stronger, thicker hairpieces, French laces would be the best choice. 
In addition, a swiss lace with super fun quality gives you 4-6 Weeks' lifespan, but the french lace is a higher life span with a reasonable price range.
The cap hairpieces are made with two kinds of laces: Swiss and French. 
Which material is used in the construction of laces?
Swiss laces are used for both synthetic and human hair. This is very softer, thinner and invisible. That is why the swiss laces are used in the front lace wig and lace frontals to give a natural hairline appearance to the scalp.
Difference Between Swiss And French Laces 
The slight difference between Swiss and French lace is only that the French lace is durable and thicker than Swiss lace.
You can determine the difference by its magnificence. It's important to remember that neither types of lace are invisible but are slightly different. 
Swiss lace construction with larger wholes makes it less visible and lighter. 
On the other hand, french lace is made with small holes that make it thicker and durable.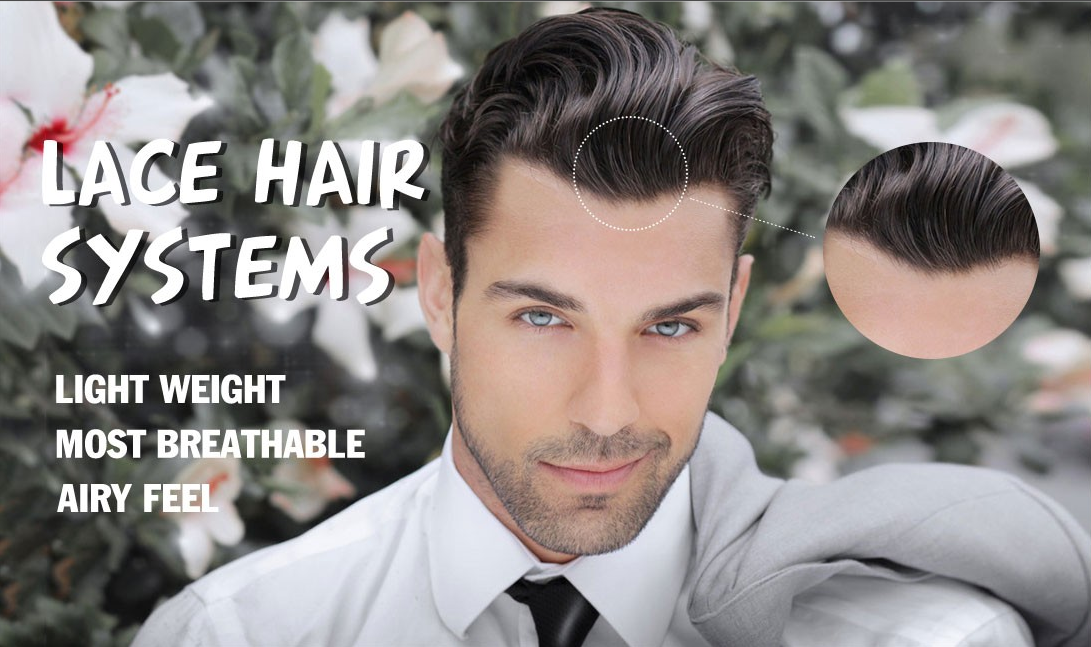 Blending Capacity 
The swiss laces easily blend with your hairline and give a natural, smooth look you. It's much lighter and invisible to the scalp than a french lace. 
The laces cap wig depends on how much it can be breathable such as single or double knots. 
Lace Colour
Swiss lace comes with huge versatility. One of the types of swiss lace is described as transparent, but it's not come with a pure transparent look. It has beige, brown, light brown, medium brown and dark brown colours.
If the swiss lace wig doses blended to the scalp or hairline, you can follow these homemade remedies at home. It's the best solution for you. 
You can use concealer on the hairline.
You can also dye lace 
A fabric marker is also the best solution to hide the scalp. 
Construction of swiss lace wigs 
A cap swiss lace wig constructs with different material such as 
No stretch uses our lace material without any combination.
Ear to ear stretch lace wig
Stretch ear tab wig
So, if you want to buy a comfortable soft base material wig that gives you medium to light density, then laces are the best choice for you. 
Similar Appearance
Both hair system french and swiss laces are made with the same fiber material and size. But the construction is a little bit different.  
Moreover, French laces toupee has shine and as compared to men's Swiss laces hair system. A swiss lace has low to no glow, which gives you a perfect and natural look with ideal invisibility. So, due to more similitary the, it's challenging to tell You in part. 
Different Touch 
you can determine the difference between Swiss Lace vs French Lace by touch. It has little Against fiber materials and construction. The swiss lace is soft and lighter than french lace so, when you touch it, you will determine better which is swiss and french. 
LifeSpan 
The lifespan of any hair system product depends on its quality, strengthening and ventilation, and maintenance. However, a high-strength material increases the Durability and avoids tearing caused by frequent attaching & getting off. 
So, a swiss lace is softer and lighter. That is why this has low Durability. Mostly a swiss wig comes with 0.33mm thickness which gives less visibility but lifespan short. But if you choose a 0.08mm wig, the lifespan is more due to the strength of the base material. The higher-strength.  
As you can see, the fiber hairpieces of French Lace can afford high force and knot compared to swiss, and it has a long life span of about 3_4 months if you care for it properly. But unfortunately, the life span of the superfine Swiss Lace hair system is about one month.
Hair Density
French Lace men's hair system has the highest hair density, about 140%, which is medium to high. But the Swiss Lace hair system offers a medium to light hair density of 100%.
Conclusion
In short, both come with a similar structure, similar invisibility. They are difficult to separate by looking. The hidden difference is only in format, which is a little bit different. However, wear swiss and french laces according to your preferred areas, including naturalness, scalp feel, lifespan and hair density.
We hope this article will be helpful when you are planning to buy a lace hair system. All in all, they are both excellent choices.
---