The Key Points of DIY Hair Replacement Systems
DIY hair replacement systems have become popular since it has to be said that the absent-mindedness of contemporary people has become more and more common. Everyone's youth is short-lived, but we can extend the youth-like beauty indefinitely. If you are now feeling annoyed by hair loss and more and more white hair. Then the most realistic wig set that catches your eyes will come sooner or later, maybe it's just right. 
The worries that used to only appear in men's heads now appear in women's hair. At least in the matter of "hair loss", "equality between men and women" is about to become reality. 
As the number of people with hair loss is increasing, it naturally leads to more and more wig shops. So I want to remind you that most wig shops sell finished wigs. It can't bring the ideal effect to your youth. 
How to buy the most realistic wig?
The rigid traditional hair set, the hairstyle looks more old-fashioned, and it is difficult to describe, but the specially designed hair is different. In addition to the real human hair, purely hand-made simulation crochet, the details are realistic and delicate, the hairstyle will also be more outstanding. 
DIY hair replacement systems can perfectly blend with your age and face shape and complement each other so that you can truly turn your age into a number and keep your youth forever in your body. Whether it is taking pictures or daily travel, we can always show our best side and live out the wonderful post-teenage era! 
How to care for men's wigs?
What should we pay attention to in daily cleaning and care? Wigs have become more and more common in our lives, and the price of a high-end real human hair wig is not cheap. 
So if you want to extend its service life, maintenance is necessary to care for wigs, hoping to let everyone take their wigs correctly. So next, we will give you a detailed introduction of how to care for men's wigs and the specific steps of how to maintain them. 
Men's wigs are especially important for wig cleaning because the wigs are worn for a long time, it is easy to accumulate stains and breed bacteria. It is very harmful to the scalp's health, so we must pay attention to keep the wig clean and hygienic.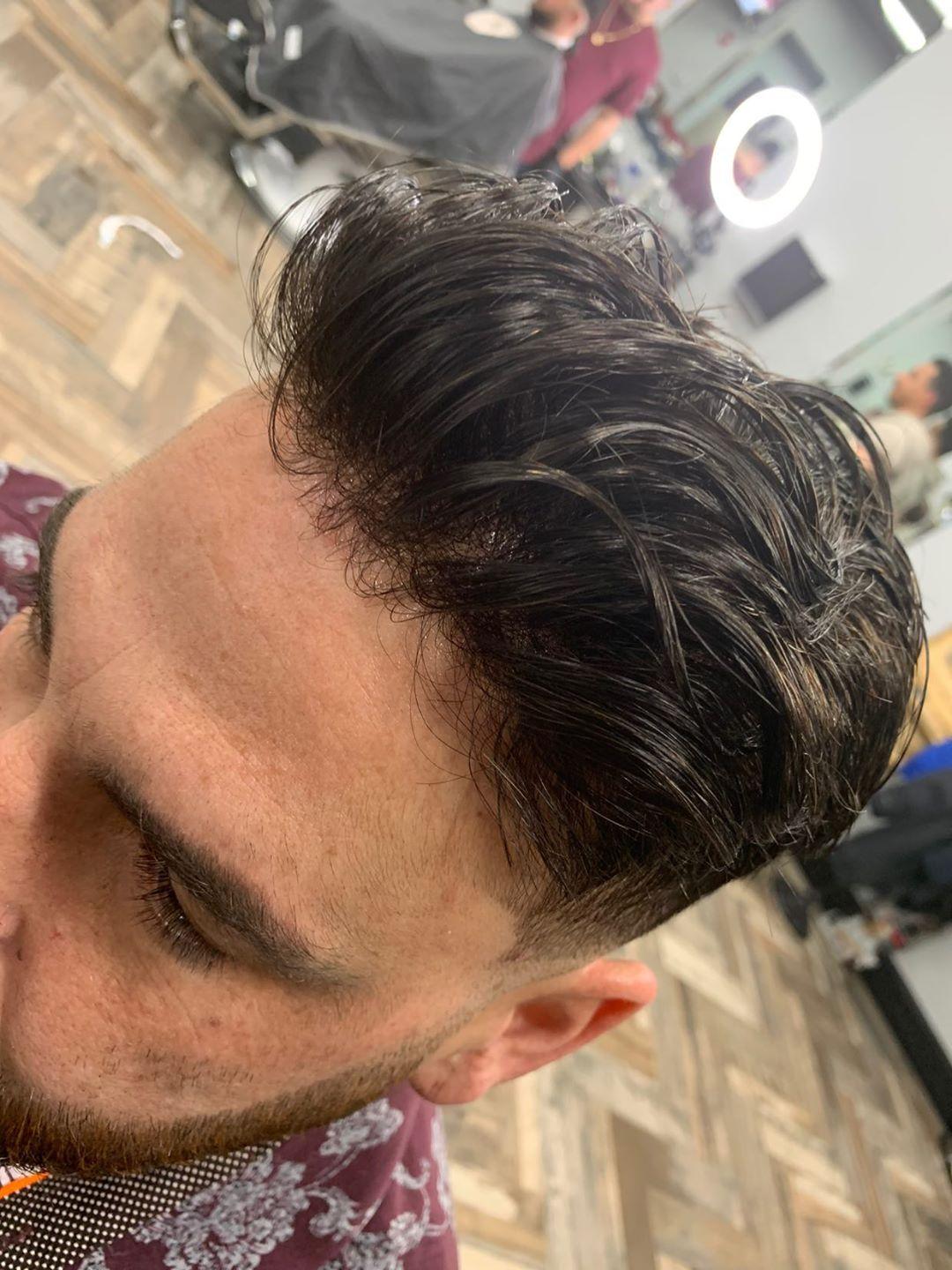 The care and cleaning of DIY hair replacement systems mainly include the following steps:
1. Before washing, comb the wig with a wide-tooth wooden comb to remove dirt and dust to avoid knotting of the wig;
2. Put the wig into an appropriate amount of warm water (20 degrees-30 degrees), add shampoo and soak for about ten minutes, do not rub it with your hands to avoid hair loss;
3. After washing, add conditioner and soak for 5 minutes, then rinse with fine water;
4. Don't wring dry after washing, put the wig flat on a dry towel, and moisten it a little bit;
5. Hung to dry naturally in the shade, direct sunlight when drying with a hairdryer to avoid the strong hot wind. 
After introducing the method of cleaning DIY hair replacement systems, let's take a look at how we should maintain them in our daily lives. To extend the service life of the wig, the following aspects need to be paid attention to: 
1. Try not to get close to high temperature, too high a temperature will cause unnecessary damage to the wig.
2. If the wig has been used for a long time and it is not easy to comb, spray the non-oily maintenance fluid dedicated to the wig, and then slowly comb it out.
3. One of the daily operations of men's wig care is to comb the hair from bottom to top section by section. Do not comb the hair down from the top, as it is easy to break the hair.
4. If the wig has been used for a long time, the hair becomes less, the hair color becomes yellow, and the hair quality becomes frizzy. The wig cover must be taken back to the store for professional maintenance and care. 
Lavivid Hair is an old brand for more than 20 years, and its reputation has always been very good. If you want to make men's wigs more outstanding and natural, don't miss Lavivid Hair!