Thin Skin Hair System vs. Lace Hair System
Views: 1654
Hair loss and thinning often occur due to hormonal changes or excess depression and stress—no need to worry about it. There are advanced solutions that can be employed to address this issue. The hair system is an advanced technique for those who suffer from baldness. The hair system's best feature is that it is practically undetectable. 
Hair System Kinds
There are two kinds of hair systems; this difference is basically due to the base layer at which hairpieces are connected. 
Thin Skin Hair Systems 
Lace Hair Systems
Both hair systems are excellent for concealing baldness. Hair and base parts make up the hair system. Each system has its unique name due to its distinctive wearing feelings and attributes, which are determined by the hair base materials of the hair system. Because hair is attached to the hair Base-layer, which is in direct contact with the scalp, choosing a suitable and high-quality hair system is crucial.
If you are unsure which one is best or which one will meet your needs, don't worry about this, because we will compare both of them to make your decision easier.
Let's start by understanding the 'Thin hair system & Lace Hair system.'
What Is a Thin Hair System?
One of the most common non-surgical hair replacement options is the 'Thin Hair System.'This type of hair system contains polyurethane. It is virtually undetectable and closely resembles your scalp, and it will look like to be growing directly from the scalp. Due to its skinny layer of base material, it gives a natural appearance. 
The thin skin basis is resistant to sweat, water, and air. V-loops ventilate thin skin base. After applying this type of hair system, you will not be irritated or itching due to its smooth surface. 
In short, the thin skin system is light and looks very natural on your head.
What Does Lace Hair System Mean? 
The most common non-surgical hair replacement technology is the 'Lace Hair System.' Light, silky, and breathable hair systems are available. People who sweat a lot will benefit from this method. A multifilament synthetic thread is often used to hand-tie hairpieces to the base. 
As a result, the fine lace basis can be used in a variety of ways. It also has an invisible appearance. The hair system is composed of small holes in the base layer, making it breathable, and the scalp can be rinsed while wearing it. 
The lace base is widely used and is more economical, and its compositions can be Swiss, French, or Hollywood. All are comfortable and long-lasting, and they come in a different variety of sizes. There may be a small bump where the materials meet in the front hairline area; the appearance is still good but not as natural as a thin skin system.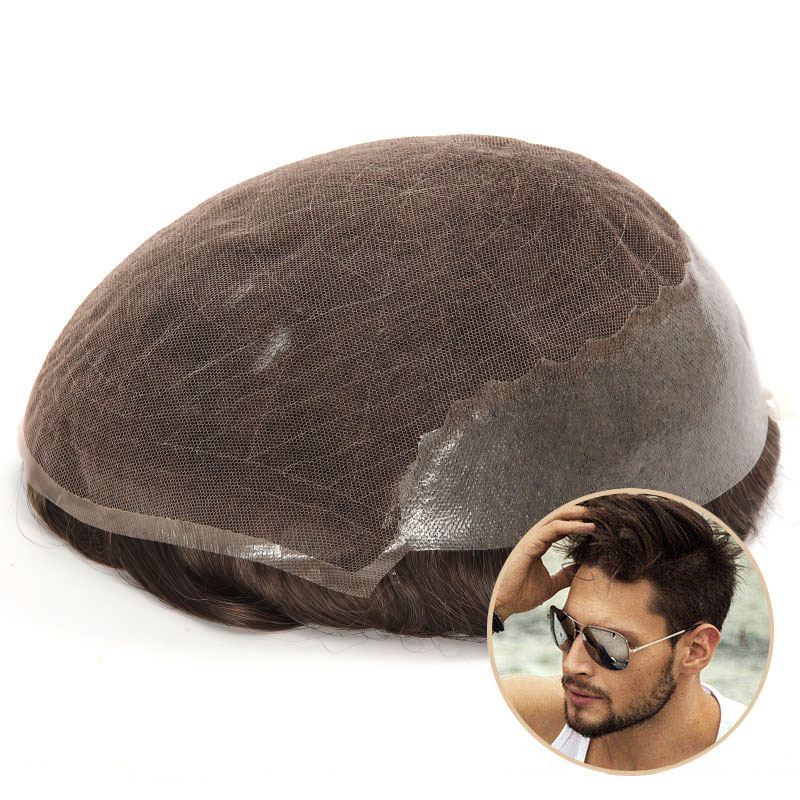 Types of Lace Hair System
Swiss Lace and French Lace hair systems are two types of lace hair systems. This hair replacement system is best for those people who remain engaged in a lot of physical activity because it is thin and causes no discomfort.
Factors of the Thin Hair System vs. Lace Hair System
So, there we will discuss some aspects of the Thin hair system and Lace hair system. By comparing these factors, you can differentiate between a thin hair system and a lace hair system.
(1)Similarity
Both hair systems are similar and used to recover baldness issues. These systems are easy to use and more comfortable means you can wear them easily, allowing you to go about your daily routine without discomfort. But there is dissimilarity due to some factors like life span, base appearance, and ventilation system. Let's discuss these differences.
(2)Comparison
Life Span 
The Thin skin type hair system has a shorter life expectancy than Lace's hair. The Thin skin hair system lasts about 1-2 months, while the Lace hair system lasts about 2-3 months. With proper care and maintenance, its longevity can run several months.
Appearances
The thin skin hair system has an improved front hairline than the lace hair system. The lacing system has a medium hair density. It is medium-light for thin skin. A thin skin system is a close resemblance to your scalp. That's why it is not easily detectable.
On the other hand, The lace hair system can be used for long hair. A thin hair system gives a natural appearance as compared to the Lace system. 
Ventilation System
The lace hair system uses a knotting-based ventilation system, whereas the thin skin hair system uses a V-loop-based ventilation system. Because of the tiny holes in the lace, it breathes well than the thin skin. 
Some people complain about the thin hair system that it et extremely hot during the summer month. That's why some vendors punch small holes on their surfaces to aid in breathability.
Adhesive material
For thin skin hair replacement, a liquid adhesive is used, which can also attach the lace hair base. Tape is also commonly used to keep lace hair in place. Thin skin is incompatible if you have tight or afro curly hair texture, whereas Lace hair has no such restrictions.
Selection criteria for the hair system Base material 
The final decision on the base material to choose for your hair system is based on your needs and lifestyle. Hopefully, the previous information has given you a better knowledge of hair replacement systems and which one may be right for you.
How to Keep Your Hair Replacement System in Good Shape
Here are some basic hair system maintenance suggestions:
To keep your hair system clean, wash it twice a week and pat rather than rub it.
Avoid using hot water – lukewarm water is better for your hair.
A brood comb can be used to remove tangles quickly. 
Conditioner treatments, combined with daily hair oiling, will keep your hair system hydrated. It will retain the hair moist & natural-looking.
Avoid exposing your hair to harsh chemicals or direct sunshine.
---