Tips for People Whose Hair Is Toupee Hair
For people whose hair is toupee hair, it's a permanent solution to solve the baldness problem. Nowadays, the toupee is more and more popular because of its fashion factor. If you don't want to keep your hairstyle invariable and don't want to make any sweeping alterations, the wig will become your best helper for changing your shape. Some advice and matters needing attention are listed below. 
1. Pruning slightly can make the wig more beautiful
Everyone has his unique face shape and style, and you can trim the toupee according to your characteristics. Further trimming will make the wig fit you better. If you have an oval face, Pushed Back long hair, Side-Parted short hair, Fringed Up hairstyle, Undercut hairstyle, and so on are all for your choice. When you are trimming your toupee, you can consult the above hairstyles. 
For men with square-shaped faces, they can choose from the following hairstyles: Undercut, Slicked Back, Crew Cut, Faux Hawk, and so on. All in all, neat and short hair is the first choice. For people with round faces, the wig needs to fit their personality style. The following styles can be taken into consideration: Undercut, Faux Hawk, Fringe Up, and so on. 
If you have a diamond face, a much shorter hairstyle should be avoided. You can choose from the following: Long Hair Pushed Back, Faux Hawk, Side Fringe, and so on. If your face shape is heart-shaped, mid-length and long hair will be proper for you. The following 4 styles are for your choice: Pushed Back, Side Parted, Side Fringe, and Undercut. Bradley Cooper is a typical representative for this. 
2. Several useful tips before you wear the toupee
Although the wig can modify the face shape, you can spend more time and mind on the bottoming of the hair. If you have a round face, you can put your hair together in the middle of your head and then fix it. If your face is a bit longer, the hair can be symmetrically fixed to two sides. In this way, there will be an unexpected decoration effect when you wear the wig.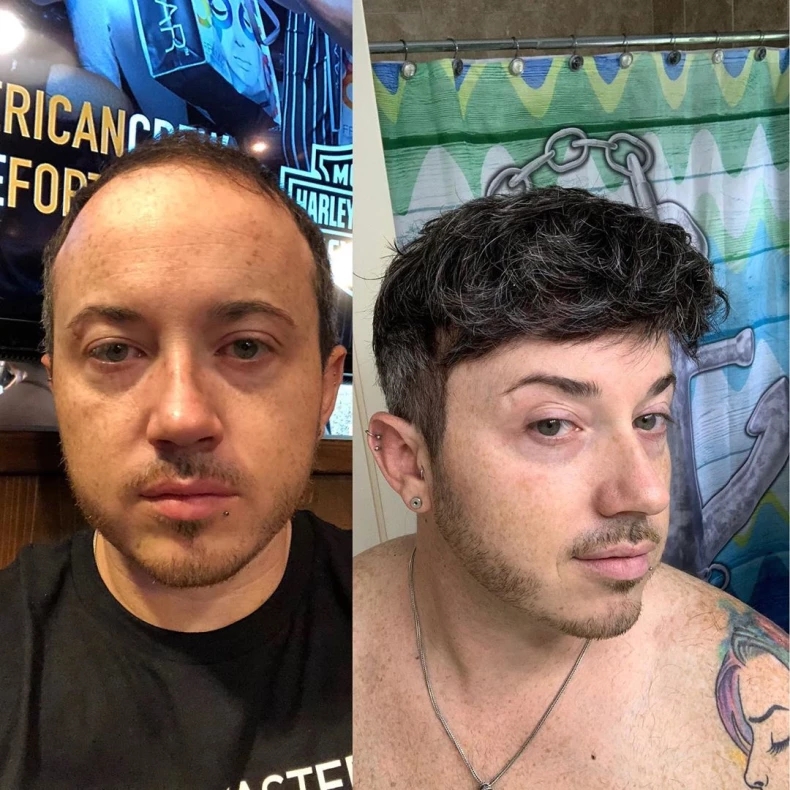 3. Put a headdress on your wig
For people whose hair is toupee hair, most of them worry about being exposed to their fake fringes. A headdress can help people out of embarrassment. Wearing a beautiful hairband at the junction of the wig piece can cover the dividing line skilfully. It can also set off the brisk temperament. 
4. The best position for you to wear a toupee
If the forehead is wide and long, just pull down the edge of the toupee slightly. At the same time, make a certain amount of fringe to cover the forehead. The whole face will not be shown quite long. If the forehead is narrow and short, just make the edge of the toupee slightly upward, and leave a small amount of fringe serving as a foil. 
For people whose hair is toupee hair, they need to pay attention to the following items. 
1. Try not to approach the high-temperature area. Wigs are not resistant to high temperatures due to the material they are made from.  When you clean the wig, cold or warm water can be used instead of hot water. And it can be cleaned once a month with the common shampoo. Don't use a hairdryer to blow the washed wig, and just drain the water with a towel.
2. Do not dye the wigs. If you want to change the style of your wig, just ask a barber to do this for you, as you may ruin it by the unprofessional cutting way. It's not necessary to use a comb to tidy your wig, and you can sort out the roll by hand. It's normal to have a small amount of hair loss during tidying and wearing. Put it in the original packaging when you finish wearing it.
No matter whether your hair is toupee hair or not, it's quite necessary to take care of your hair. Having to wear a toupee is one thing, and choosing to wear a toupee is another thing. When you buy a toupee, try to learn as more as possible about the product you will purchase, only buy that can you use it for a much longer time.