How to Choose the Best Men's Wigs for Baldness?
Views: 1069
Men's wigs for baldness have become more and more popular and helpful. For bald men, before getting cured, suitable wigs will save them from feeling abandoned. Then, how to get wigs that are suitable for you? The face shape, the texture of the hair, the material of the hair, and the color of the hair are all needed to be considered. 
The facial shape is one of the most important factors for what kind of hairstyle you will keep. While a suitable hairstyle helps people to show their facial charming. For bald men, especially at a young age, they would have a terrible hang-up about it. Men's wigs for baldness will help to heal the wound. 
There are several basic shapes of face among human beings. Before choosing the hairstyle, you need to make certain the shape of your face. 6 tips are given below to help you get the wigs you want. 
Oval face
The oval face is a standard face shape with proportional coordination. The width of the face is two-thirds of the length. If you are with an oval face, you can try all kinds of hairstyles. Pushed Back long hair, Side-Parted short hair, Fringed Up hairstyle, Undercut hairstyle, and so on are all for your choice. A typical representative is Zayn Malik. 
Square-shaped face
For men with square-shaped faces, their jaws are wide and the edges and corners of the face are quite sharp. A suitable hairstyle must have to stretch the face visually. You can choose from the following: Undercut, Slicked Back, Crew Cut, Faux Hawk, and so on. All in all, neat and short hair is the first choice. David Beckham is for your reference. 
Round face
There are no angles or prominent lines for this kind of shape. You may feel close and insipid towards them. The tip for them is to choose a wig with their personality style. The amount and the length of overhead hair must be focused on. The following styles are for your choice: Undercut, Faux Hawk, Fringe Up, and so on. A typical representative is Leonardo Dicaprio.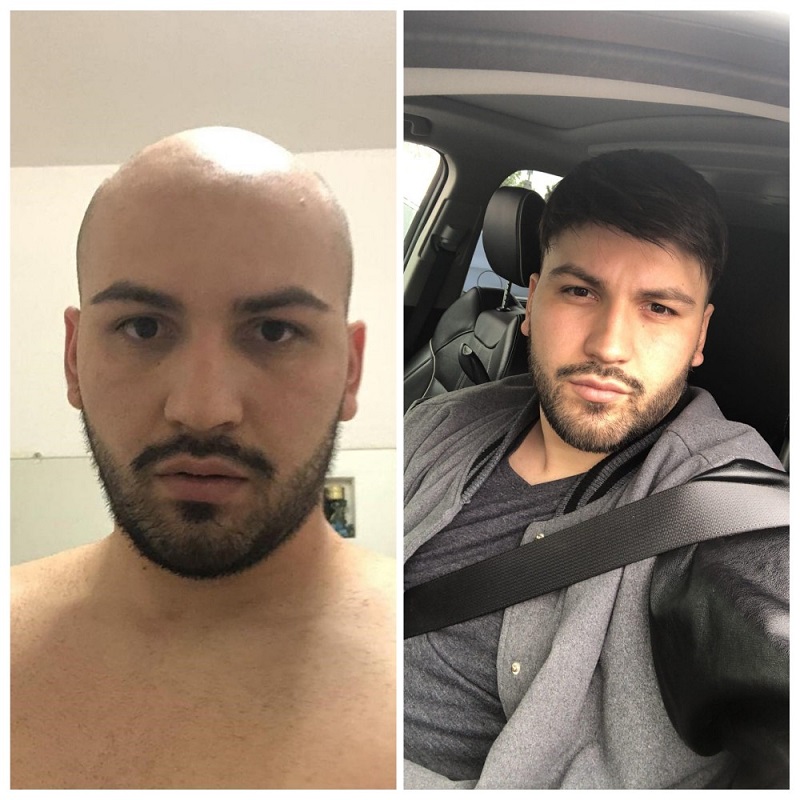 Oblong face
The most prominent feature for long face is the high forehead and the long chin. When you choose the wigs, pay attention to the balance of the hair length. There're quite a lot of options for long-face persons: Side-Parted, Buzz Cut, Side Fringe, Fringe Up. To avoid the vision of too long face, just cover the forehead with fringe. Russell Crowe is for your reference. 
Diamond face
If you see a man with a narrow chin, a narrow forehead, and prominent cheekbones, he must have a diamond face. And also the edges and corners are quite distinct. For them, the much shorter hairstyle should be avoided. You can choose from the following: Long Hair Pushed Back, Faux Hawk, Side Fringe, and so on. A typical representative is Cheyenne Jackson. 
Heart-shaped face
They have wide foreheads and narrow chins. Mid-length and long hair will be proper. If the hair is too short, most attention will be focused on the forehead. The following 4 styles are for your choice: Pushed Back, Side Parted, Side Fringe, and Undercut. Bradley Cooper is a typical representative for this. 
The above are my suggestions to choose men's wigs for baldness according to facial shapes. Except for this, there are other factors you need to consider before you make up your mind on the wigs. You can take them for your reference. 
The hair texture of wigs
Usually speaking, there are 3 kinds of this. They are straight wigs, wavy wigs, and curly wigs. When it comes to choosing the hair texture, nothing needs to worry about. You just pick the one you prefer. The desired hairstyle that you can't hold with your hair comes true now.
The hair material of wigs
There are Human hair extensions and synthetic extensions. Human hair extensions
will last longer while the price is higher than Synthetic extensions. The hair lifespan for real hair wigs is 3-24 months while it's 2-3 months for synthetic wigs. You can make the choice based on your situation. 
The hair color of wigs
There're colored hair, ombre color, and natural color. If you want to try different styles, you may choose colored hair that you like. But before you make the decision, the age, personality, career, hobby, and so on should be taken into consideration. 
When you plan to purchase Men's wigs for baldness, the traditional stores and online shopping are both for your choice. No matter where to buy, you'd better consult the salesperson or the customer service staff. As their professional tips help you to get satisfied orders.
---