How to Choose and Maintain Toupee Hair Extensions?
Views: 1102
Toupee hair extensions have a variety of types including clip-in, fusion, weave, and so on. They can be made up of real hair or synthetic hair. You may feel confused about so many kinds of hair extensions. Which one should you pick or how to maintain the toupee hairpieces? The following content will answer these questions for you. 
What is the difference between a real hair extension and a synthetic one?
The former one looks more natural and softer. Some of the synthetic hairpieces for toupee have good quality, most are stiff and feel uncomfortable to wear. Synthetic hair is also more fragile. It is vulnerable to be colored, curled, or straightened. Overheat or other extreme conditions all cause damage to synthetic hair. 
Therefore, it is usually cheaper than the real ones with shorter extensions. The real one can last for years while it can only be used for months. Buying which type depends on your using frequency of toupee hair extensions. 
Comparison between different types of men's wig extensions
·Clip-in toupee wig
Clips are attached to the hairpiece, offering convenience to put on and put off the extensions. They do little damage to your hair and scalp and can be worn in just a few minutes. No professional techniques are required, you can wear them yourself easily.
·Tape-in wig extensions
These extensions are glued to your hair, so a professional hairdresser is needed to operate the process. He or she will use a heated tool to heat the glue. This process will do damage to your hair and it takes around an hour to finish.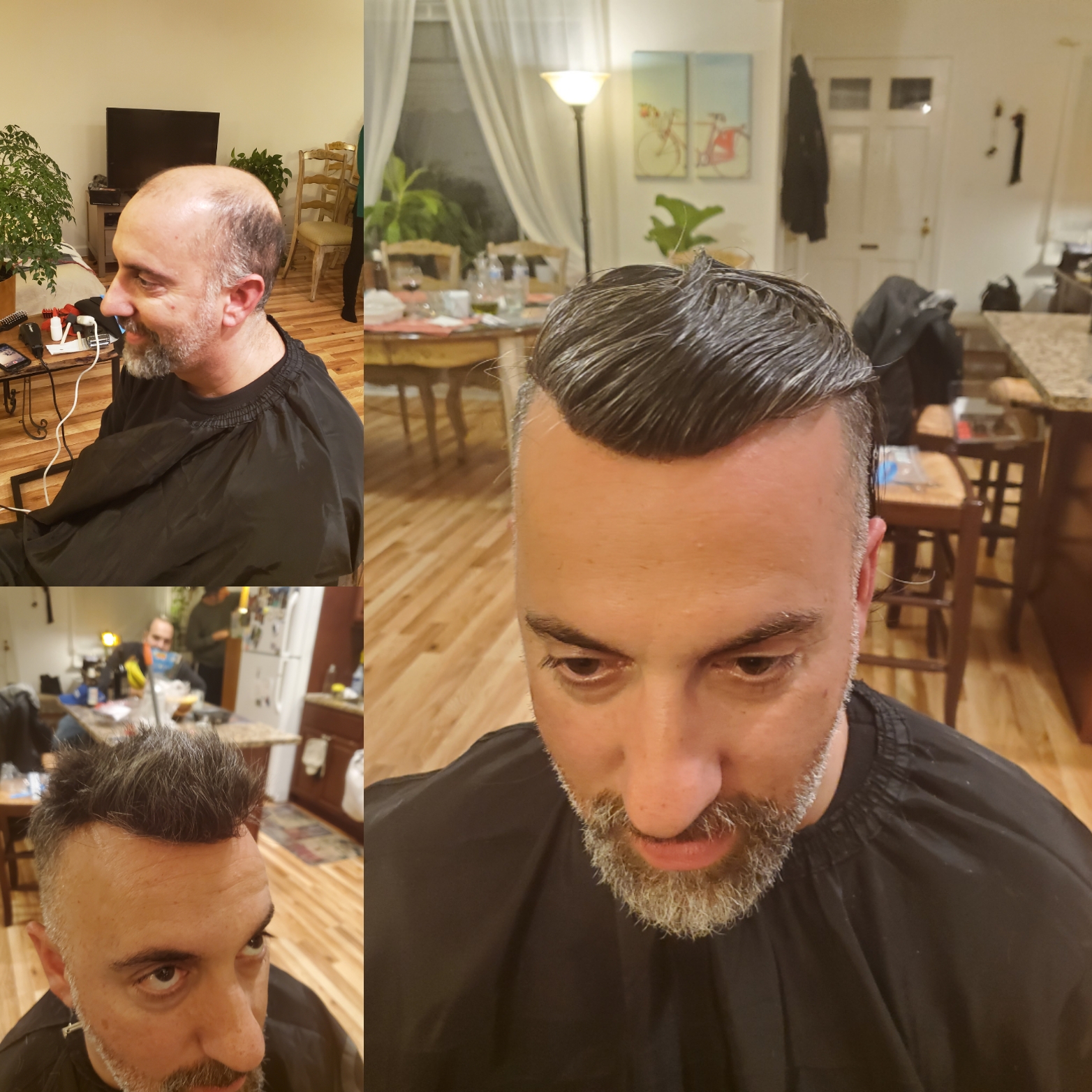 Since it is glued to your hair, you should be careful when using the hairdryer and relevant products. Hairdressers will recommend you to use special products to protect the combined place so that it will not be damaged and slip off. This kind of extension can last for one or two months. 
·Microlink toupee hairpieces
Wefts of hair with a small bead are combined to make the extension. Glue or heat is not needed. But the extensions are not that easy to be attached. They will damage your hair if they are not installed or removed properly. They can last for four months and their installing position should be adjusted after two or three months. 
·Sew-in hair extension pieces
Before using the wig pieces, your hair should be braided into cornrows. Then the extensions can be sewed into cornrows. So if you do not have much hair, it doesn't work. They can be applied to your head for a long time, almost permanent looking natural and seamless. However, the whole process may last very long and put pressure on your scalp to make you feel uncomfortable. 
The techniques are also demanding. You are suggested to find an experienced hairdresser. Toupee hair extensions are generally not using this kind of technique. 
·Fusion hair extensions for toupee
Also, be applied with glue by professional hairdressers, they will seriously damage your hair if your hair quality is not that good. Extra tools are needed to finish the process which will take three or four hours. 
How to maintain hair extensions
They don't directly touch your scalp, so they don't need to be washed frequently. Hair products that do not contain alcohol or sulfate are recommended. These ingredients may make the hair frizzy. 
Softly wash them with some shampoo firstly and rinse off. Then, apply conditioner on them, make sure from the top to the end. Rinse off again and immerse them in cold water. Then, a hair mask can be applied to these wig pieces to keep them smooth and nourished. 
Using a wide-tooth comb to brush them and to deal with the tangles. If you are not hurrying to use them, put them in ventilated places to be air-dried. 
Conclusion
Knowing this basic information about toupee hair extensions, you can check online the relevant products and find the most suitable one for your hair or you can counsel hairdressers for more professional advice. Hair extensions can change your image, picking a good quality one can save you time and money. Hope this article can be helpful to you.
---