The Guide of Applying Dye for Men's Hair Piece
Views: 1666
Sometimes you want to use the dye for men's hair piece to change your style and make your wig more attractive. While it may seem easy at first sight, dyeing is a complex task that requires accuracy, patience and strict compliance with the instructions. In this article, we are going to provide you with a handy guideline on how to use the hair color for a male wig.
Can you dye synthetic hair?
For us, it is very important that you don't damage your hair system. That's why we would like to begin with a warning. Keep in mind that you can dye only the human hair toupee. Synthetic hair hates hair colors because they make it brittle and weak. Human hair is more durable, hence, it can resist the chemicals used to paint the hair into a new shade. In this way, our strong recommendation is to avoid dyeing your wig if it is made of synthetic fiber.
1. Choose the right dye
You are free to use hair dyes for human hair available at beauty stores. Unfortunately, you can't choose any color that comes to your mind. The point is that you can only darken your wig. If you lighten your black or brown wig, the bleach will make the strands weaker and easy to break.
2. Mix dye with developer
Use a plastic bowl to mix the developer and the hair color. Throw a look at the instruction to ensure you add the appropriate amount of each ingredient. Mix thoroughly and intensely so that the dye and the developer combine into a single one.
3. Test the dye
You don't want your wig to be damaged and get the wrong color. That's why you need to test first the compatibility of the dye agent and the hair piece. It will take time, but you ensure, in this way, that you will not have to spend additional money on wig repair or replacement. So you better stay safe. Apply a tiny amount of dye on a hair section that is hardly seen. Wait for 30 minutes to see how the strands will look like. If you like the color, you can dye the entire wig.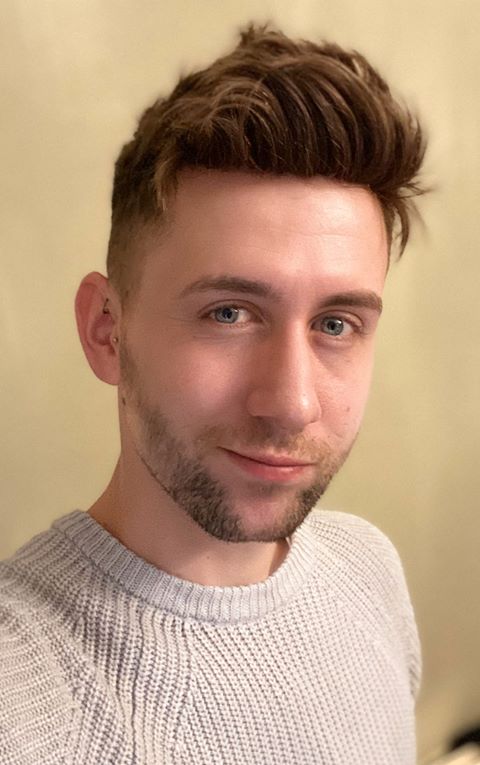 4. Soak the hair piece in hair color
Wear rubber gloves to protect your skin from irritations and redness. Grab your wig and soak it in the dye for men's hair piece. Using gentle hand motions, cover each section of the wig with dye. Make sure the color reaches the entire surface of the shaft, from roots to ends. Don't use rough actions, like vigorously pressing the dye into the fibers for better absorption. It will only damage the hair.
5. Display the wig on a stand
Place the hairpiece on a wig stand and brush it gently to spread the color evenly and remove excess paint that may weigh down the wig. Considering that you are working with a hair dye that has not dried out yet, you are better off covering your mannequin head with plastic wrap to ensure you don't stain it.   
6. Drying
The next step is to let the wig air dry. Read the instruction to see the exact time the color needs to get completely set. If you don't find such information, check the hair every 10 minutes.  
7. Wash the wig
Now that the color has set, you have to wash the wig with warm water to remove excess dye. Use a color-safe shampoo to guarantee it doesn't attack the fragile coat of dye. Thoroughly shampoo the strands using gentle motions. Then, rinse the suds with cold water to close the cuticles and prevent access of impurities. 
8. Apply conditioner on the ends
For human hair wigs, dye processing may be a shock. You are good to apply some conditioner on the tips and middle section of the shaft to relieve the hair's stress and prevent dryness and brittleness. 
Bottom line
Applying dye for men's hair piece is not as easy as some wig wearers imagine. In spite of being allowed to do it in home conditions, you have to act like a professional and perform each step with maximum vigilance and accuracy. You want your hairpiece to look its best, that's why you have to test the dye, spread it evenly, remove excess product when you finish and apply conditioner on the tips to prevent their dryness.  
---