To Buy Hair Replacement Systems Online? 3 Tips for You!
Buying hair replacement systems online is a common choice for people who need them. Hair replacement systems have become more and more popular. Some people buy them as the modification of their baldness, and some just pick them as a fashion factor. It's quite important to choose the suitable one.  5 tips are listed below to help to make the right choice. 
Why do we buy hair replacement systems online?
Nowadays, there are a lot of electronic markets all around the world selling millions of products involving various categories every day. More and more people prefer to purchase goods online. In the same way, all kinds of hair replacement systems can be found online. The following reasons can explain this. 
First, it's a method of protecting privacy. Some bald people just don't want to be noticed. They may feel ashamed or embarrassed to be known as bald. Shopping online just helps to remove the dilemma. From the beginning to the end, no one knows what have you bought. 
Second, it's very convenient and quick to go shopping online. With the development of transport and express industries, it becomes quite efficient for purchasing goods online.  Third, it's a price advantage. The goods online are from all the country, even all around the world. There's no monopoly in the situation of resource sharing. So we can buy wigs and toupees reasonable in price and good in quality. 
How to choose hair replacement systems online?
After we have decided to buy toupees online, then it comes to the question. How do we choose a suitable hair replacement? We will discuss the relationship between facial shapes and hairstyles. There're several basic shapes of face among human beings. Before choosing the hairstyle, you need to make sure the shape of your face. A suitable hairstyle helps to show facial charming. 
For people with round faces, the tip for them is to choose a toupee with their personality style. The following styles can be taken into consideration: Undercut, Faux Hawk, Fringe Up, and so on. The balance of the hair length needs to be paid much attention to people who have an oblong face. The suitable hairstyles for them are Side-Parted, Buzz Cut, Side Fringe, and Fringe Up.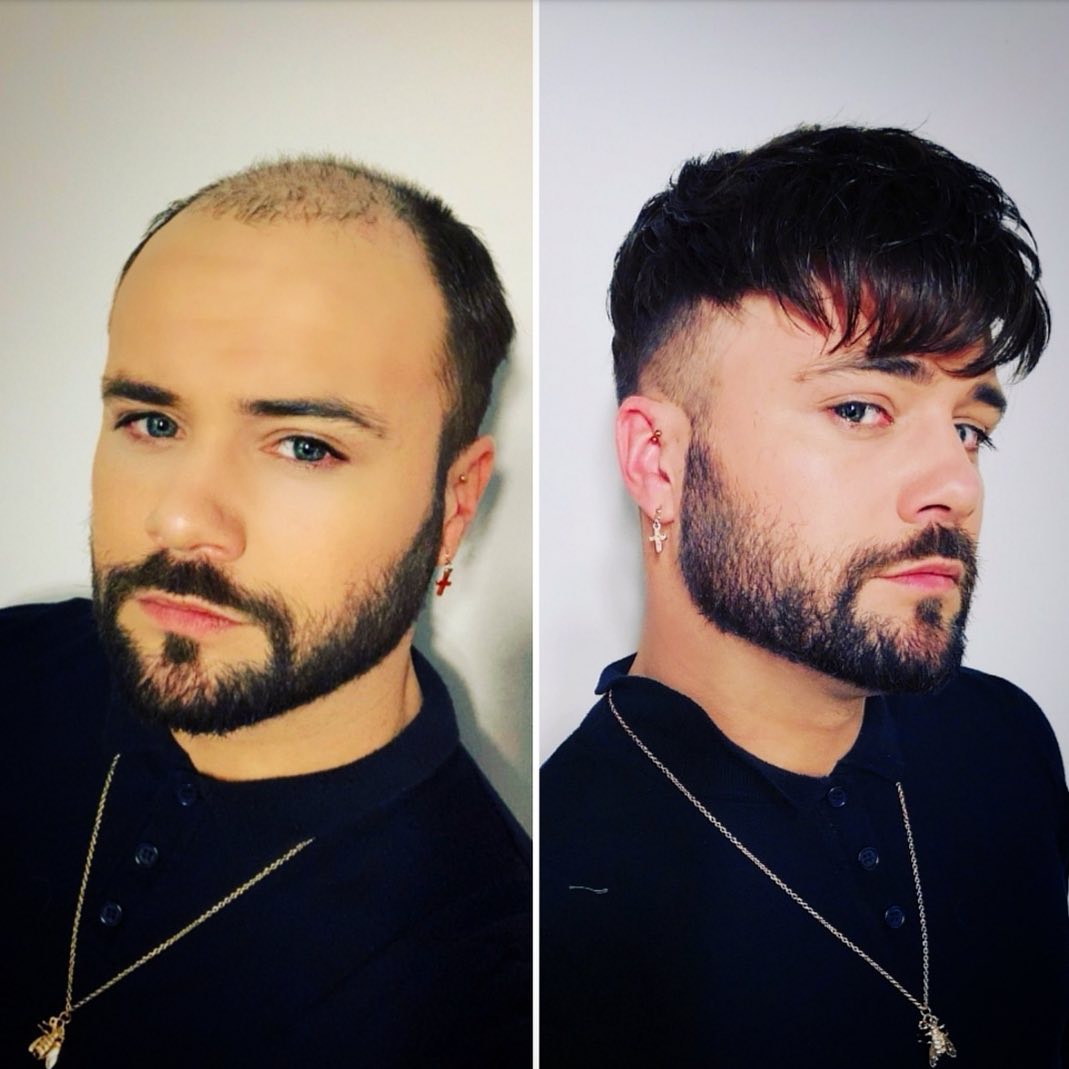 If you have a diamond face, a much shorter hairstyle should be avoided. You can choose from the following: Long Hair Pushed Back, Faux Hawk, Side Fringe, and so on. If your face shape is heart-shaped, mid-length and long hair will be proper for you. The following 4 styles are for your choice: Pushed Back, Side Parted, Side Fringe, and Undercut. Bradley Cooper is a typical representative for this. 
For people with oval faces, the width of the face is two-thirds of the length. If you are with an oval face, you can try all kinds of hairstyles. Pushed Back long hair, Side-Parted short hair, Fringed Up hairstyle, Undercut hairstyle, and so on are all for your choice. A typical representative is Zayn Malik. 
Except for facial shapes, skin color also matters a lot in the selection of hair replacement systems. If the color of the toupee can set off your face brighter, then it's a proper one for you. If your face looks dull and gloomy with the toupee, then the color is not suitable for you. 
Where can we buy hair replacement systems online?
Lavivid is an online shop that sells all kinds of hair replacement systems. You can find lace hair systems, skin hair systems, mono hair systems, and silk hair systems there. Each of them has separate advantages and characters. If you want to know more about it, you can log in to the following website and you'll get what you want. www.lavividhair.com/blog. 
Except for hair replacement systems, there're also all kinds of accessories, such as hair system tapes, salon ordering tools, hair system glue, and so on. You can buy all at one-stop shopping. There're also blogs about all kinds of hair loss issues. You can just consult them. 
All the above are 3 tips for buying hair replacement systems online. Except for this, we can also buy toupees in traditional stores near us. Both of these two ways help us to get suitable hair replacement systems. No matter where to buy, you'd better consult the salesperson or the customer service staff. As their professional tips help you to get satisfied orders.