How to Clean Your Lace Hair System? Follow the Two Methods.
Views: 910
Cleaning lace hair system is one of the most important things to do when using lace wigs. As wearing lace hair becomes increasingly popular among people, most of the lace wigs customers can easily pick up ones they prefer and attach great importance to methods of wearing them on, but they neglect the importance of cleaning them. Cleaning lace hair is a good way to keep wigs new and make them last longer for use. So here I am going to show you two ways to clean yours. 
Method one:
The first thing to do when cleaning lace hair system is to use hot to warm water with the washcloth and repeatedly just rub in the upward motion to get the glue off the lace. What you have to bear in mind is that you should do this without being too rough because you don't want to tear the lace hair.
Then you can just keep going and cleaning it until it all comes off and as you will see it will be completely off. After this, you are just going to comb it inside and out.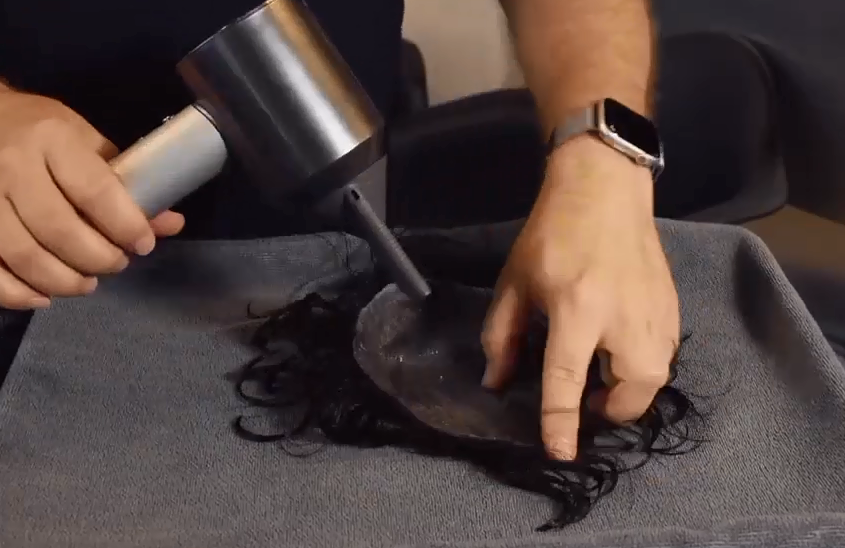 Then you can go in with some shampoo which works really good and use some conditioner as well from the same line. As you clean the lace hair system, you can bring it back to life and make it soft and smooth, so you can go on and wash it as normal.
Then, you can bring yourself a pot of hot water because you are going to add the conditioner into the water, where you can let the lace wig sit for about 10 minutes. This method brings your lace hair completely back to life. The moisture-like edges literally help with everything. So if you never tried this, you should try it and I'm telling you that it actually works well. 
Method two:
You will be using only conditioner and a wide-toothed comb, and you can use any conditioner that you prefer or you like, which can work amazingly with your lace hair system. You can use a bowl and use any container but it just helps it be so much easier to manage and control when you are cleaning lace hair system because you want to allow it to soak into the conditioner.
If your wig is an HD lace, it is more delicate. So you definitely want to be careful whether it is HD or any lace for that matter and in that way you don't cause any unnecessary tugging or damage. Then you can work the conditioner into the hair and again you don't have too much because there is no rubbing required. So you just want to massage it into the hair gently and make sure you get it all over. And once you do that then you can take that wide to the comb and run it through.
In addition, you can also dip it in and out of the water over and over because as you can see, the conditioner kind of stays clumped which is why you should mix it in the water first and loosen it up a bit again. With the combing, you always want to go from the bottom to the top. You have to remember that the lace hair should be bottom-up because you don't want to cause any more tangles or pushed angles down into the hair which will cause more tugging pulling damage.
At last, you can let it sit for hours or let it sit overnight. It depends on how much time you have, but of course the longer the better. After all of these, you can use some cold water to get off any excess on the lace hair system. 
It must be noted that cleaning lace hair system nicely is really a big part of how long your lace hair will stay nice because if you are not moisturizing the hair is going to get dry and dryness just leads to breakage. And you don't want the hair kind of falling off your lace because that is just what happens when it gets dry and crusty. Hope the two methods I have introduced above can give you great help!
---