How to Choose Different Types of Hair Replacement Systems to Suit Your Style and Personality
Views: 1056
Taking note of the hair on the head getting sparse by the day can be a difficult deprivation for anyone. It leads to feelings of insecurity and self-consciousness in men as they may feel less attractive. The situation can lead them to miss out on opportunities to progress in life. The hair fall problem is a fairly common one. As many as over 50% of the men encounter hair fall by the age of 50. The causes of hair fall in men include genetics, side effects of medications for chronic illnesses, infections, health issues, stress, and age, among many others. 
Genetics is the most significant reason behind hair fall in men. The likelihood of men losing their hair gradually increases if you have relatives who have undergone the same condition. Medications for illnesses such as cancer, arthritis, gout, and depression can contribute to hair fall problems. Hormonal changes in the body can lead to the gradual shrinking of hair follicles that renders the hair-thin, short, and fine, which makes it fall beginning at the temple and crown of your head. The loss of hair in this particular manner is known as male androgenic alopecia.
Male androgenic hair loss occurs due to hormones called androgens, which contribute to male characteristics in the human body. The primarily male hormone, testosterone, is also an androgen. Hair loss in men occurs due to a derivative of testosterone, namely dihydrotestosterone (DHT) that acts on hair follicles to reduce hair growth. DHT acts more aggressively on balding spots in men, causing hairline to recede and gradual thinning of hair that leads to male androgenic alopecia.
Why You Should Opt for Hair Replacement Systems over Other Treatments
When it comes down to treating men's hair fall problem, there is no end to the remedies available. Aloe vera extract is loaded with proteins, vitamins, and minerals to breathe life back into weakened hair. The simple method involves aloe vera gel being extracted from its leaf and applied directly onto the scalp.  
Eggs, enriched with proteins and B-complex vitamins, give the hair a healthy, voluminous look. Crack open two eggs, whisk them, and apply directly onto your scalp. Cover the hair with a shower cap for 20 minutes. Wash off the egg mask properly and use regular shampoo to eradicate the smell.
Consumption of protein-rich diets has been observed to promote hair growth. Food proteins can replenish keratin which is a protein that makes the hair follicles help in restoring hair. The use of supplements like multivitamins, vitamin D, and biotin provides nutritional benefits that can stimulate the hair's regrowth. Multivitamin supplements comprise essential vitamins A, B, C, D, iron, and zinc that are charged with hair rejuvenation properties. Biotins offer vitamin H or B7, which is used in the hair life cycle, and overcoming its deficiency can strengthen the hair. More hair loss treatments include hair transplants and laser therapy which can be extensive or intrusive procedures.
Remedies for hair fall through natural ingredients or supplements are effective and may produce results over time. However, the treatment methods are prolonged and require discipline that can be challenging to maintain. That is why hair replacement systems offer a significant solution with relatively lesser effort to uplift your self-esteem.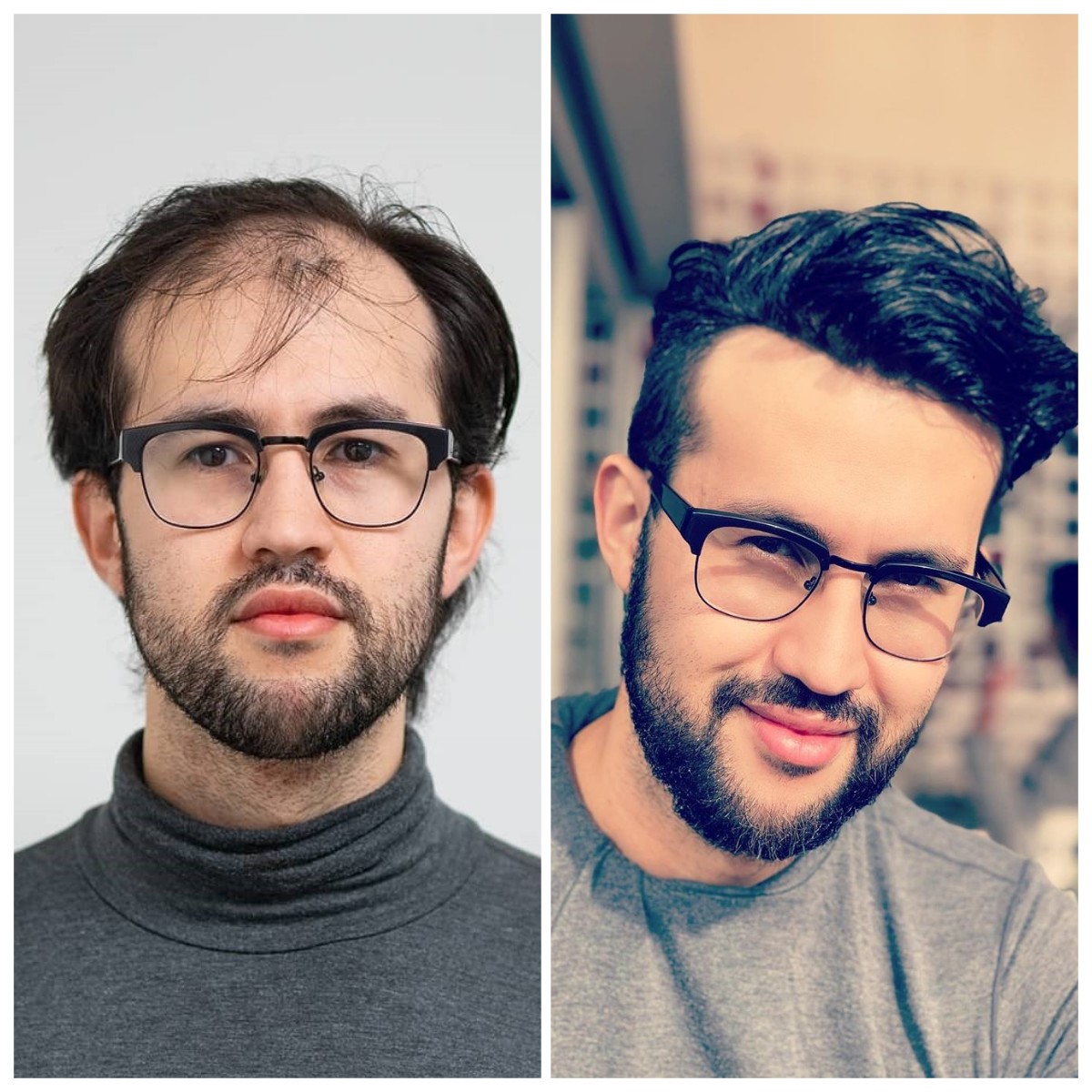 The good news is that with hair replacement systems, you do not have to undergo intrusive and painful procedures to get luscious hair. The procedure may be as simple as choosing a hairpiece of your preference and wearing it. Hair replacement systems conceal bald spots in men where even the results of natural treatments and studied medications may fall short. Various colors, quality, texture, and styles of hairpieces provide men with more control over how they want to look. The system provides ample room to customize hairpieces to fit only certain bald areas on the head, making it a flexible choice. The cost depends on factors such as density, type, direction, material, base, construction, etc.
Types of Hair Replacement Systems
Hair replacement systems are flexible like nobody's business. They can be custom-fitted to make them more comfortable for the wearer. The material of the hairpiece varies between human hair and synthetic fibres. Options also extend to the type of base used for the hairpiece, namely polymer or mesh bases. The different types of hair replacement systems available are as following:
1. Lace Hair Systems
Lace hair systems are made from mesh or lace materials. Each strand of hair is hand-tied onto the base using a synthetic thread. The material used makes the hairpiece light and breathable, enabling airflow between the scalp and hairpiece. Using this hair system type can wash their scalp or swim while wearing the hairpiece without any problem. The use of flesh-colored lace blends where hairline and hairpiece meet, making it invisible and giving a more natural look. These offer low durability, but the durability can be improved by mixing other lace materials, thereby making it more expensive.
2. Polyurethane Hair Systems
Polyurethane is an extremely thin, non-porous material. The thinness of the material renders the hairpiece detectable, even by touch. Polyurethane base makes the hair system light enough to not be noticeable to the wearer while keeping the hair in place by holding on to the scalp. These are high-durability hair systems and provides the most realistic look and feel due to their resemblance to human skin. However, the drawback is that there is a lack of breathability, which does not allow water, air, or swear to penetrate the base, making it uncomfortable to wear.
3. Lace / Poly Hair Systems
This variety of hair replacement systems offers the best of both worlds by combining lace or mesh with polyurethane. The combination yields a more durable hairpiece with a longer lifespan and versatility. It may use silicon to enhance the hair's realistic factor and make it resemble closely to human skin. The drawback of this type is that the wearer might feel uncomfortable due to the weight of the materials used for parts of the hairpiece.
If you are looking for a guarantee of quality and value worth your money, you have arrived, so hurry now and visit the Lavivid online store!
---