Some Recommendations about Buying A Wave Hair Piece for Men
Views: 1274
The wave hair piece for men is a popular product among customers. Are you looking for upmarket hair replacement systems for men with a slight wave? Today, we select several hair units that are highly welcomed by consumers from our store. Read the article you will know their making materials and performance. 
Hairpieces have become a necessity for those who are troubled by baldness. Quality hair replacement systems can not only give you a natural look of hair but cause no discomfort. We know that there are many types of hair units classified by their making materials. At Lavivid store, we offer four basic types of hair toupees for men, poly base, lace, mono, and silk hair systems. 
Each product is different from another in terms of its texture, durability, life span, and original hairstyle. Some can be used for a longer time while some are extremely light-weighted and breathable. The original hairstyles of toupees may vary. Some are straight, some are curly. Catering to the demands of people who prefer the wave hair piece for men,we recommend several nice wave hair units for men here. 
Thor Men's Lace Toupee
A lace hair system is the best option to wear on a hot day or in exercise. The small holes on the hair base allow air to penetrate. Therefore, it is cool to wear such a hair unit even on summer days. The Thor hair toupee is relatively more durable and stronger than other lace hair systems. The full French lace base combined with stitching lines makes sure the durability of the product. 
All knots are well hidden inside the hairpieces so that others will not spot that you are wearing a hair toupee. It looks like that the hair directly grows from your scalp. The hair has a slight wave and it can last for 4-6 months with good maintenance. There are many colors available including jet black, dark brown, lightest brown, and so on. You can choose the one that fits your skin color the most. 
Coeus Men's Hair Replacement Unit
This product has a full thin skin base around 0.08mm -0.10mm. When you are wearing the system, it feels like wearing a layer of thin skin. It can be attached to your scalp firmly. Unlike the lace hair system that has small holes on the base to add breathability, the poly base is water-resistant, so it is easier to apply and remove than the lace one. 
It is made of Indian Remy Human Hair. A sort of real human hair that is healthy and less likely to tangle. The full thin skin base contributes to the long life span of this product, about 6-8 under good conditions. The hair is slightly wavy suitable for people who lead an energetic lifestyle.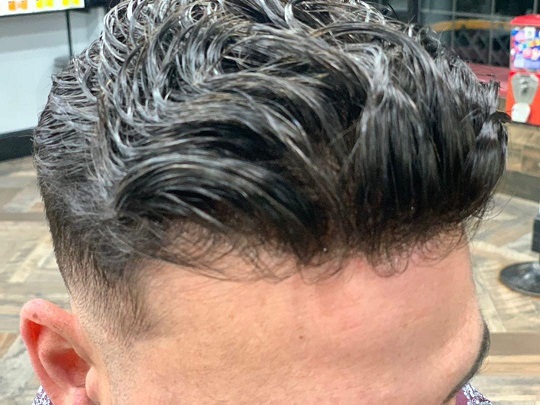 Versatile Men's Hair Pieces
This wave hair piece for men is versatile on many occasions, you can wear it to attend a wedding or business conference. As the most classic hair system for men made of fine mono materials, it is popular among customers. 
This product has a fine mono top. The perimeter is made of poly and the front is lace. Such a combination of different materials brings out the advantages of each material, enhancing the durability, breathability, and natural appearance of this product. The trendy slight wavy hairstyle is a nice option for people who prefer wavy hair. 
The life span of this hair unit is around 8-12 kept in good condition. The price is reasonable, about 270 US dollars. 
Poseidon Men's Receding Hairline Solution
Though this product is not wavy, it is still a perfect choice recommended by us. The base is made of deluxe silk with a round of thin skin. It can give you the most natural hairline and comfortable wearing experience. The knots are 100% invisible. 
The replacement period of this system is around 8-12 months. The hair density is 130%. Though the hair toupee for men is the most expensive among our recommendations, it is also the one made with the most advanced techniques and best materials. 
Summary
We have recommended the male wave hairpieces to you. There are more wonderful hair replacement systems of high quality in our store. No matter what sort of hair units you want, buying one that suits you is the most important.
---