The Answer about What Is the Lace Hair System
Views: 1755
Wat is lace hair system? This is a question many people may ask. Lace hair systems not only solve the problem of people suffering from hair loss but has additional advantages compared to other types of hair systems. To make you have and a better understanding of this sort of hair system. We have introduced relevant details in the following article.
General Definition
Wat is lace hair system? A lace hair replacement system is used to cover baldness. Different from a wig that has a well-designed hairstyle, hair systems are mainly used to cover the top part of one's head. Hair systems usually simulate the growth of real hair, giving a natural look. You can cut or color a hair toupee into the hairstyle you like if the quality of it is good enough. 
Like surgical hair transplantation, hair replacement systems also work well in covering the secret that you have the problem of baldness, but they are safer and more cost-effective than surgical hair systems. Usually, a toupee adhesive or tape is used to apply the toupee to your head. There are so many types of male toupees that even a person has sensitive skin that can find a suitable one.
Besides, applying the non-surgical hair system does not spend much time. If you ask a professional hairdresser for help, the application can be done very quickly. In contrast, a surgical application may take hours. That is why, nowadays, toupees are more and more welcomed. 
A toupee is comprised of a hair base and hairpieces. The base directly touches your scalp which is also the classification basis of toupees for men. Whether the quality of the hair base is good or not can determine how you feel when wearing the hairpiece. 
Apart from the lace hair system, there are many other kinds of hair replacements like thin skin or poly. What are the differences between them? By knowing this information, you may better know which one is more suitable for you.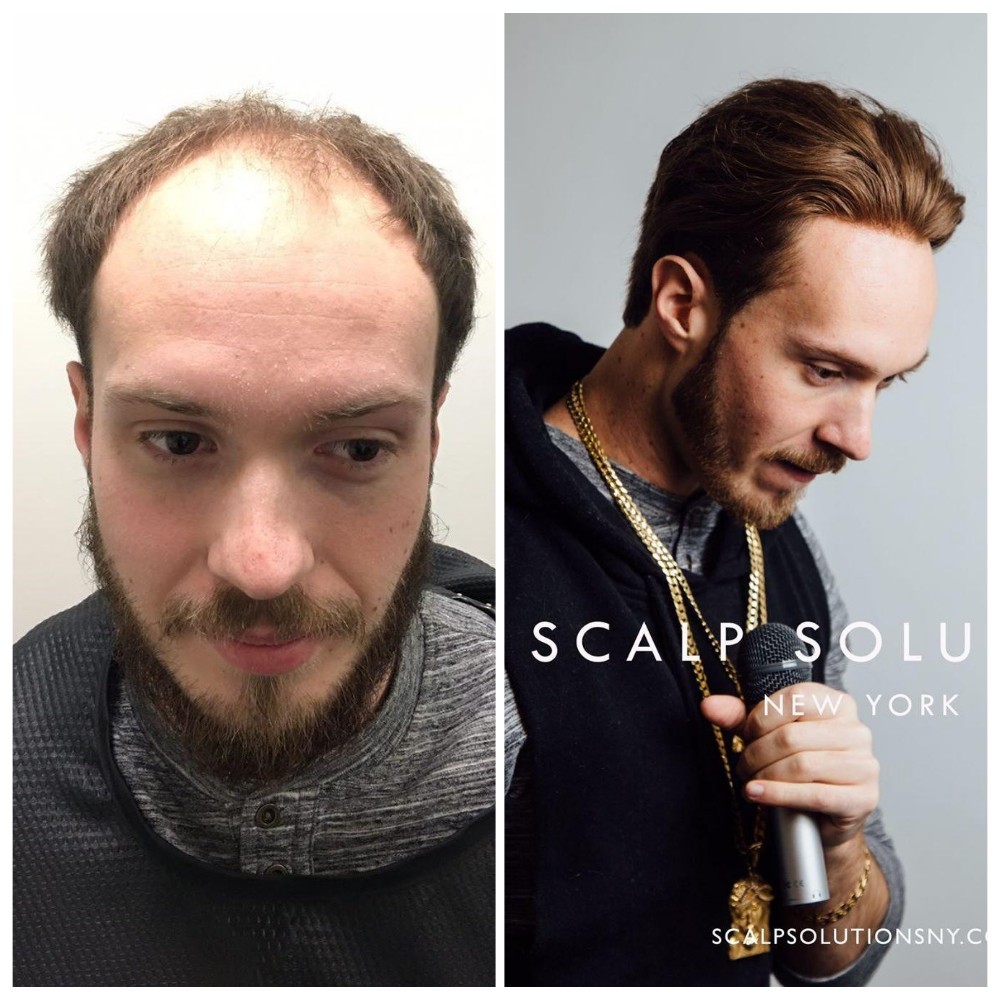 Lace hair vs poly hair system
These are the most common types. The basic structures of these two types are different. Poly hair base is a thin and transparent layer. Water and sweat cannot penetrate the thin layer, so when you are wearing the poly base hair system, you may feel a thin skin is applied to your head. 
The transparency of the layer makes the hair system more undetectable. It can be blended with your skin color. A full-thin skin base is durable lasting for a long time. Because of the impenetrable feature of the thin skin, this sort of hair replacements often has looped ventilation so that you will not feel too hot when wearing it. 
Compared with the poly one, the lace hair system is more light and soft. A full lace base is a fabric net with many small holes in it, leading to the high breathability of the lace hair system. It is perfect to wear when the weather is hot and you sweat a lot. It can be said that the lace hair toupee is the most comfortable to wear. 
Of course, it also has some disadvantages. It is less durable than the thin skin type. It is more difficult to remove adhesive from the lace base and clean up residues, but in general buying, a lace hair toupee will not be a bad choice.
Types of lace hair systems
In addition to the full lace base hair system, there are other two types also made with lace. One is the front lace toupee and 360-degree lace toupee. The former one, as its name suggests, such a product only has lace in the front. The other parts may be made of other materials. 
While the latter one has lace around the whole toupee and the base may be the thin skin base. The mixture of lace and other materials can make the performance of products better. 
Summary
I believe the problem wat is lace hair system can be solved after you have read this article. The lace hair system is soft and light-weighted having many advantages. If you want to buy the product, here at Lavividhair store we supply a lot of wonderful lace hair toupees. The products here will not let you down.
---