The Factors that Affect the Men's Hair System Cost
Views: 1728
How much does a men's hair system cost? We know that a hair toupee works well in covering hair loss. However, worried about the cost, some people stop adding the product into their shopping cart. Therefore, we will introduce the cost of a hair toupee and the factors affecting its price. Then, you can decide whether to buy it or not based on your budget.
When we are shopping, one of the most important factors that we will consider is the cost of the product. No matter how wonderful a thing is, we will not buy it if it is too expensive. Some people hesitate to buy a hair system right because of the cost of the product. How much does a hair unit cost? You should know these factors. 
The prices of hair replacement systems vary. Some cost less than 100 US dollars which some can reach over 1000 dollars. The more natural and realistic a hair toupee for males is, the more expensive it is. If you decide to buy the product, you should first consider how much a toupee you can afford to buy. 
The average price of the product is from 200 US dollars to 400 dollars. If you have a high demand for wearing comfortability, the price will be higher. Between the 200-400 range, we still have many options. 
In general, there are four kinds of materials to make the hair base, lace, poly, mono, and silk. The lace hair base lasts shorter than other types of hair base but it is more breathable and airy to wear. The Swiss lace base is a delicate hair base, less strong than German and French lace. 
If you sweat a lot or live in a humid climate area, a lace hair replacement system can be preferred. The replacement period of a full lace hair unit is 4-6 months. If you are looking for such a hair system, the Helios Hair System for Bald Men from our store is a nice choice. 
This hair system is made of a full Swiss lace base, an ideal choice for an active lifestyle. The full lace base can make sure that you feel comfortable wearing the system on a summer day. 64 colors are available.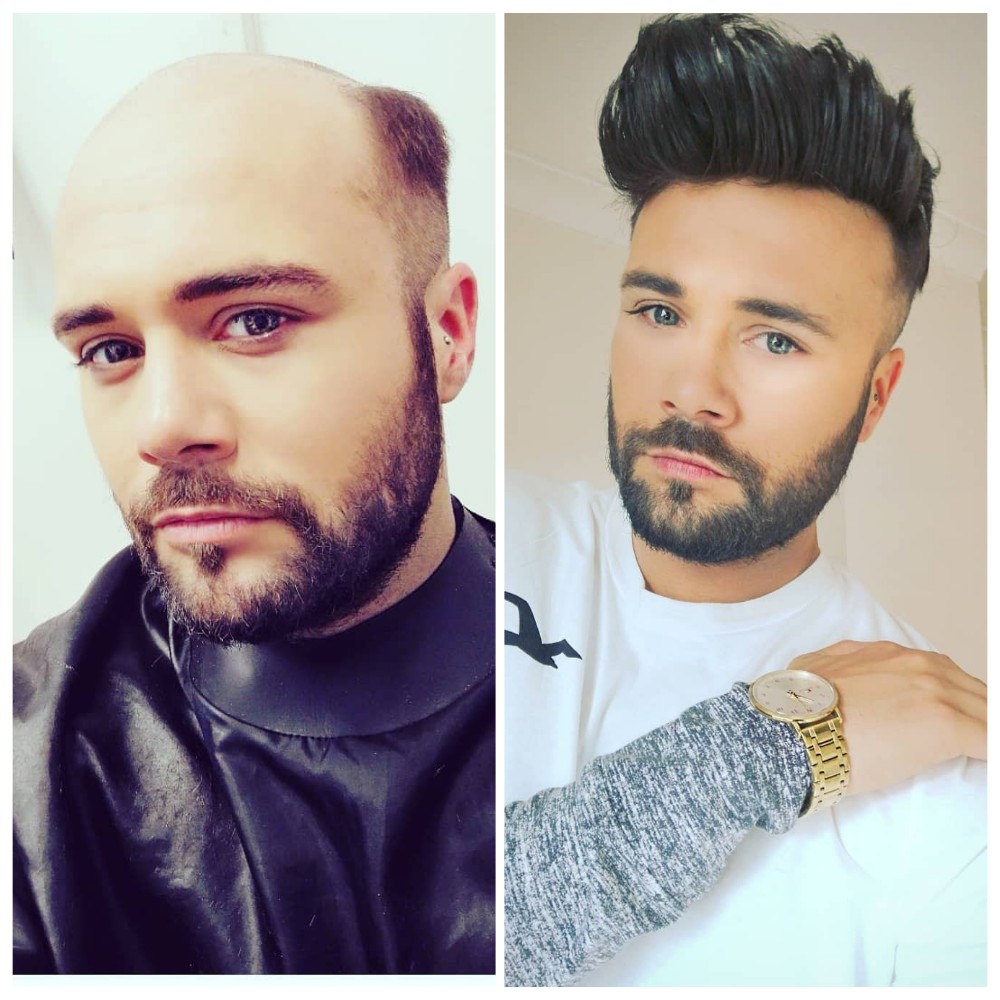 If you prefer a hair system that can last for a longer time. Mono hair units for men are better. They are less breathable than lace base, but can still present realistic hairline. The life span of a full mono base system is 8-12 months. 
Versatile Men's Hair Pieces is nice. It is made of a fine mono base with PU cutaways. The hairpieces are made of 100% real human hair. This men's hair system cost is 269 dollars. Considering its replacement period, it is a friendly price to wearers. 
As for the silk hair system, it is the most luxurious and delicate type. It is suitable for people whose skin is sensitive. It can give you the most vivid look at the scalp and hairline. The cost of a silk hair unit is the highest among all types. 
After knowing about the different sorts of hair bases, you also need to take the hairpieces into account. The color and texture of the hairpiece can determine the effects when you are wearing the product. 
Generally, it is recommended to choose hair systems made of Indian Remy hair because it is not as expensive as European hair and softer than Asian hair. The Asian hair features a black color and tough texture. The European hair is the softest but most pricy. Therefore, if you want to buy hair systems regularly, Indian hair is the best. 
Apart from the men's hair system cost, the money you spend on a hair replacement can be a bit more than you think. Because it is not a permanent product, you need to replace it regularly. To keep the good appearance of the hairpiece, you also need to care for it well by using some hair protection products, which is also part of spending. 
To conclude
We have introduced the cost of a male hair replacement system. The product is a useful tool for people suffering from baldness. We hope the information can help you to buy a suitable and cost-effective product and save your time in choosing.
---