The Perfect Option for Spot Baldness: Lace Front Wigs
Views: 1528
Lace front wigs for men are a perfect option for fighting spot baldness. They are made exclusively for baldness at the front of your scalp, without making you pay more money for a full head covering wig. This article aims at explaining to you what a lace front hairpiece is, what its pros and cons are and how to use it.
Who is lace front toupee designed for?
Lace front hairpiece is designed to cover the frontal baldness on the scalp. It is much smaller than a wig, making it impossible to wear on a completely bald head. Rather it is compatible with people suffering from hair loss in the front of the scalp, being attached by the existing hair.
Advantages
1. Cheap
Being smaller in size and targeting only a special area on the scalp, a lace frontal is less pricey than a wig. If speaking of it as a long-run investment, it also proves cheap, because most of the front hairpieces are made high-quality and durable, requiring you to replace them less often.  
2. Easy to attach
There is no rocket science in applying this type of toupee. If the person has long hair, the toupee uses existing hair for support, without relying on bonding agents like tapes and glues that require preparation prior to being applied. At the same time, being one the most flexible hairpieces, the frontal piece is also compatible with tapes and liquid adhesives, in case the existing hair is too short to serve as support for clips. Just like application, removal is also a no-brainer.
3. Flexible
The front piece is styling-friendly, allowing you to try a wide variety of hairstyles, such as comb-over and slick back. Pulling back the hair is not a problem, as most front hairpieces use Swiss lace or French lace that is thin, fine and blend with the color of the scalp and face skin perfectly. So every time you expose the front area by pulling the hair back, you will not have to worry that the hairpiece edge will betray the presence of the artificial bunch of hair, but rather it will seem undetectable and natural-looking.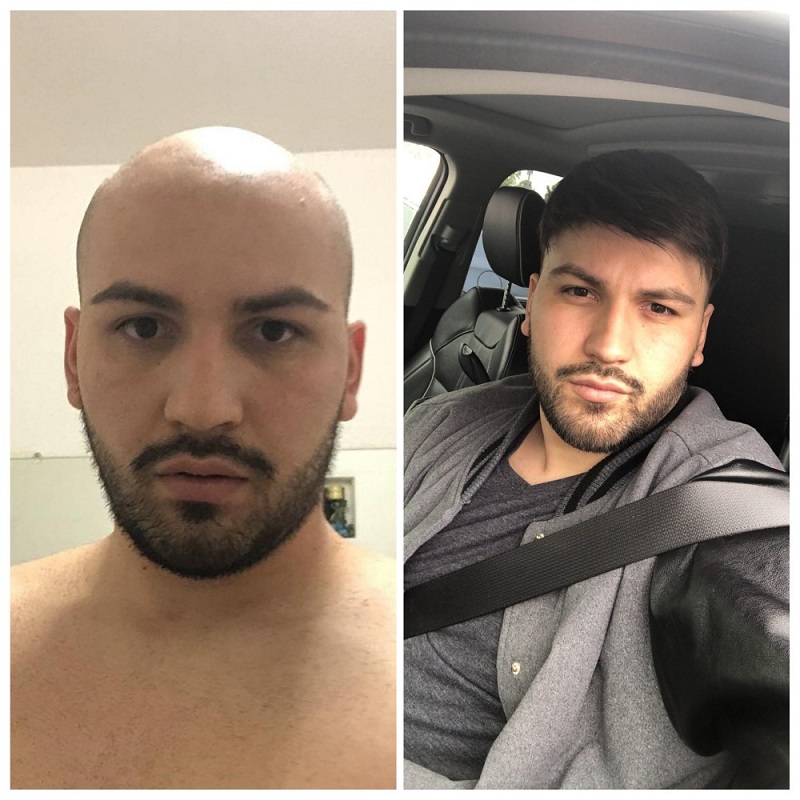 Disadvantages
1. Wrong color
Since it is applied on a scalp with hair, sometimes the color of the frontal piece does not correspond to the color of the natural hair. The bigger the color difference, the more embarrassing appearance. This is why it is important that you take your time and choose a front piece that blends ideally with your hair's color. For that, get in touch with a hairstylist or a beauty salon to help you determine your hue exactly and combine it with an identical hair system.
2. Detectable edge    
Frontal pieces have a frontmost positioning on the scalp, which makes any mistake in their application to be visible. Sometimes, inexperienced people apply the toupee in a tilted position or put too much glue that bursts out beyond the edge line and turns into a dry and visible residue, if not wiped away as liquid.
Tips for using lace front wigs for men  
1. Don't apply excessive glue
More glue means a better bond is wrong thinking. You need to apply as much adhesive as the hairpiece can hold. If you apply too much, the excess glue will burst out when pressing the toupee down, tasking you with an additional job. By the way, if you happen to use more glue than needed and it bursts out, don't forget to wipe it away before it dries out, as otherwise, you will have even more trouble getting rid of it.
2. Reinforce the clips with additional bonding elements
Clips not always provide a stronghold, due to too short hair. This is why, you can combine clips' effort with the effort of other adhesive agents, such as tapes or glue.
3. Draw a line for a more precise application  
To ensure that you apply it in a perfectly horizontal position, you can draw a line along the hairline to mark the future location of the hairpiece. Then apply it following the line, without spending time on adjusting.
To conclude, front toupees are more convenient than wigs when it comes to hairline receding. You will get many benefits from using it, such as lower price, easier application, flexible styling and a natural hairline which is possible only if you apply the toupee properly.  
---