How Do the Mens Hair Color Ideas Affect Your Style and Personality?
Views: 1767
Nowadays, more and more men look for mens hair color ideas to bring a change in their style. While a few decades ago it was unthinkable for a man to dye his hair in exotic colors, now it is a trend and it talks about man's free spirit, courage and lack of fear in front of radical changes. Here you have a list of unconventional hair color ideas that will help you stand out and turn heads on the street. 
1. Natural black and green on the side   
The first one we would recommend you is an unusual combination of black and green. The funny thing here is that unlike other multicolor hairstyles, where colors are spread equally on the entire head, in this one, each color corresponds to one side of the head's top. That is, if you have natural black hair, you leave half of your hair intact, while the second half you dye in green. It is very important though to make a smooth transition between the two colors. The solemn black should flow smoothly into a vibrant green which is how you make this style attractive and hot.
Also, this color style is good to apply on heads where hairs are distributed evenly on all parts of the scalp. This will help get an equal amount of each color. Of course, you can try to dye by yourself, but if you feel that you will fail with the ratios and transition, you can ask a hairstylist to help you pull it off.  
2. Smokey gray curls
If you are lucky to have curly hair, you can try this one. It looks decent, yet makes the impression of something eccentric and outgoing. It is the middle point between conventional and unconventional, being a great choice for guys who want a change in style. We recommend you to start with a fade on the sides, then color the remaining curls on the top in smokey gray. Smokey gray is a combination between ash gray and light brown which looks soberly and trendy and will definitely help you stand out from the crowd.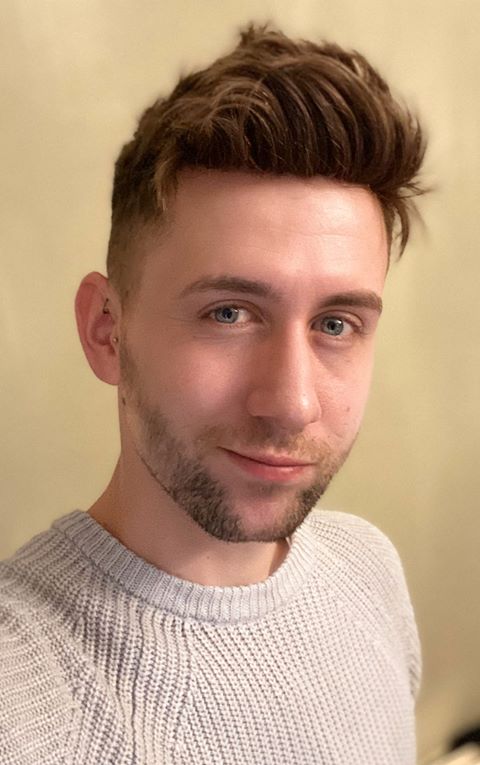 3. Fire orange-peach orange transition
This style is a funny game within the orange spectrum. It is ok if your hair is longer, as it will make the transition effect even more visible and eye-catching. Start with the hair roots, coloring them in a fiery orange, then make it gradually melt to a soft peach shade at the ends. The transition from a revolt flame to a delicate sunset peach will look incredibly good and will keep all eyes on you. As all smooth transitions are hard to accomplish by yourself, you are better off asking a hairdresser for help.
4. Slicked back yellow blonde
If you still don't know which color style to choose, this one may inspire you. If you have blonde hair but don't want a radical change to black or brown, you can choose a transition to a brightly yellowish tone. It is still a sort of blonde, but it is more daring, shiny and eye-catching. Yellow blonde provides a striking look that will allow you to become more confident while making a statement about your open-mindedness and individualist spirit. It you have a bit longer hair, don't hesitate to complement this vibrant color with a slicked-back hairstyle which will make you look even more stylish and resolute.  
5. Platinum waves
Keep in mind that gray and platinum are not the same thing. Gray is matte and sobre, while platinum is lustrous and outgoing. If you want something bolder and statement-making, you are better off going with a platinum tone. Platinum waves on top is a hairstyle made for adventurous guys who love style and hate boring colors. It is especially good when applied on natural black hair, creating an impressing and eye-pleasing contrast between solemn dark and bright silver.   
On the whole, changing your hair color is not difficult. You just need courage, a good hairstylist and a list of men's hair color ideas to get inspired from. Some trendy color styles that might spark your interest and are incredibly popular include fire orange, yellow blonde, smokey gray, platinum and black&green. 
---