What Did Ted Danson Do for His Baldness?
Daily, around 50 to 100 individual strands of hair fall off our heads. This is completely healthy and normal. While taking a shower or brushing your thick locks, some hair is usually to fall off. But if you notice a lack of regrowth or start shedding an unusual amount of hair altogether, it becomes a problem then. Hair loss can be triggered for various reasons, and it can be quite challenging to determine the exact cause. Suffering from hair loss is quite common among men and women alike. Even the celebrities we see walking the red carpets go through this. Many male actors, singers, and other celebrities have acknowledged their hair loss troubles and talked about their hair replacement solutions. You might see Ted Danson Bald and wonder what procedure he must have used for a head full of volumizes hair. Still, celebrities like Ted Danson have made it clear that they have been wearing hair replacement systems for a long time and how Ted Danson's wigs have been impossible to detect. 
Heredity
Heredity is the highest recorded cause of hair loss in studied cases. This condition is also called male pattern baldness. The symptoms might include thinning hair, bald spots, and receding hairline. The hereditary hair loss conditions can also negatively affect the age, intensity, and extent of your suffering from hair loss. Male pattern baldness is a lot more common than females and can start showing symptoms as soon as a male hits puberty. Another two male pattern baldness symptoms are hair thinning, and the hair is getting fine and short. 
Stress
Another very typical cause of excess hair loss and baldness is stress. Taking on more than you can handle or general anxiety can trigger your androgen levels, causing your hair to thin and fall excessively. This could be another reason why so many celebrities suffer from hair loss. Spending your life in the open eye of the public and being in front of the camera frequently can cause a great deal of stress. For example, Ted Danson, a renowned actor and producer of Hollywood, suffer from hair loss for this exact reason.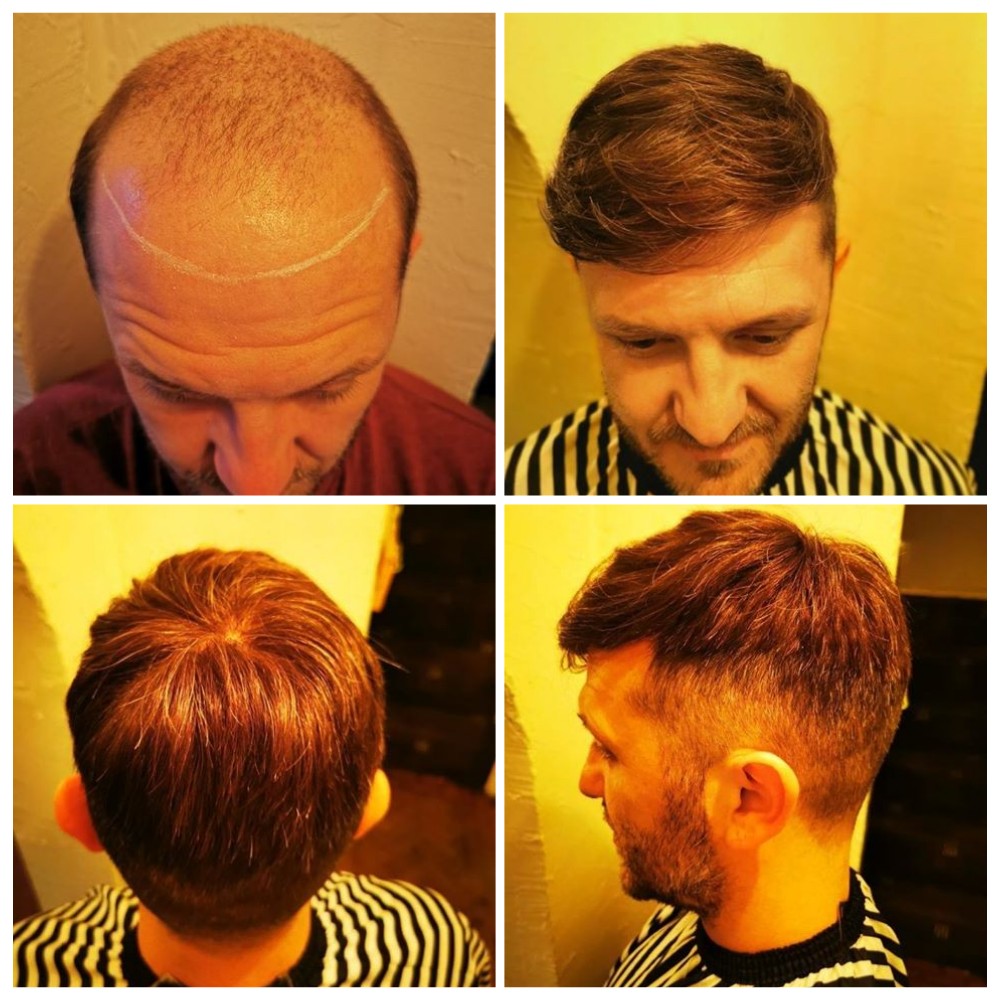 Hairstyling Products
Hair loss is getting more and more common every day. Hair loss used to only be common in people above 30, but it's more common now among younger people too. This is due to the inappropriate use of hair products such as wax and pomades etc. moreover, putting heat to your hair such as curling iron, straightener, and chemical treatment can also trigger extreme hair loss. This is another reason celebrities suffer from such poor hair conditions. The style and treat their hair excessively as it is a requirement of the job, but they end up with ruined hair or baldness in the long term. 
The Truth About Ted Danson
Like many other male celebs in Hollywood, Producer Ted Danson also started suffering from hair loss in his middle age. In paparazzi pictures at a beach, he appeared to have balding spots among his natural hair. He is among the very few celebrities who don't pose as if they don't have any defects. He has acknowledged hair loss problems multiple times, and he does not act like his thinning hair is something to be looked down on, to the point that he embraced Ted Danson's bald pictures taken by some fans.
Danson has been wearing toupees for many years while starring in the TV Series Cheers as Sam Malone. At the time of airing, it was the town's talk; everybody wanted to know if Danson was wearing a toupee or if it was his natural hair. It is, however, rumored that at that time, he had already started suffering from male pattern baldness and had been wearing a toupee for his role.  
The actor told at one point that he started wearing a hair system in 1982. He would dye his natural hair for the role and then wear a wig over it to properly blend it. He chose to wear hairpieces over getting a hair transplant.  
How to Make These Hairpieces Realistic?
The Base of The Hairpiece
As expected, the base is the fundamental part of a hairpiece. It is the very first thing that's created in the process of hairpiece making. Many different skins and strands can be used for making it. The base of a hairpiece is made transparent so that it's easier to blend in. the base is carved and designed to make it easier to wear and fit perfectly on the scalp. 
Adding Hair to The Hairpiece
After the base comes to the hair, there is a choice between synthetic or natural hair. There are pros and cons to both hair types and can easily be compared. The designer generally has to match the hair color and type to the natural hair of the client. But it is up to the customer, and he wants his hair to look like it.  
Blend the Hairpiece
Although the designer puts in a lot of effort to make the hairpiece look natural and authentic while making sure it is comfortable and carved to fit perfectly on the client's head. It is still a wig. It needs to be blended into the natural hair with a fixer, or else there will be a sharp seam where the hair meets the toupee. By using a fixer, you can easily blend in your hairpiece with your natural hair.  
If you too want to look as handsome and rock hairstyles as him, visit us at Lavivid. We shelve an extensive range of authentic hair in many colors and textures. We can also customize according to your needs. Customers and their satisfaction is always our priority.