What Does Hairpieces Color Mean?
Views: 1065
Wigs, toupees, and hair extensions are all examples of hairpieces. Individual hairs can also be bonded to natural strands to give a more natural-looking appearance of longer hair, a process known as hair bonding. Hair weaves are another popular hair accessory that has a natural appearance.
Styles
Hairpieces come in a variety of styles and are used for a variety of purposes. People use artificial hair for a variety of reasons. Some use it to cover up hair loss, while others use it to change their style.
Choice
Wigs are undoubtedly the most well-known sort of hair accessory, and they've been in and out of fashion throughout history. Wigs have been a popular choice for both men and women at various points throughout history. Most wigs are made of human hair, either genuine or synthetic, and cover the full head. Wigs usually feature a netting material in which the hair is sewed, making it easier to pin down and keep in place. Full wigs are a fantastic option for anyone who has lost most of their hair, especially women.
Effect Of Hairpieces
Toupees are hairpieces that males typically wear with male pattern baldness. This condition affects many men as they grow older, though it can also affect younger men occasionally. Toupees can help hide male pattern baldness, especially if the balding is concentrated on the top of the head and there is still lots of hair on the sides. They resemble wigs, except they are smaller and usually only cover the top of the head. 
Types
Toupees are available in two types:
Synthetic 
Real human hair.
Custom-made
The greatest hairpieces are custom-made from high-quality human hair that matches the client's hair. 
Color
Texture
Natural curl or wave (straightness), 
Hair density is all factor to consider (thickness). 
Hair for less-priced hairpieces can be composed of human hair of moderate grade, animal hair, or synthetic fibers.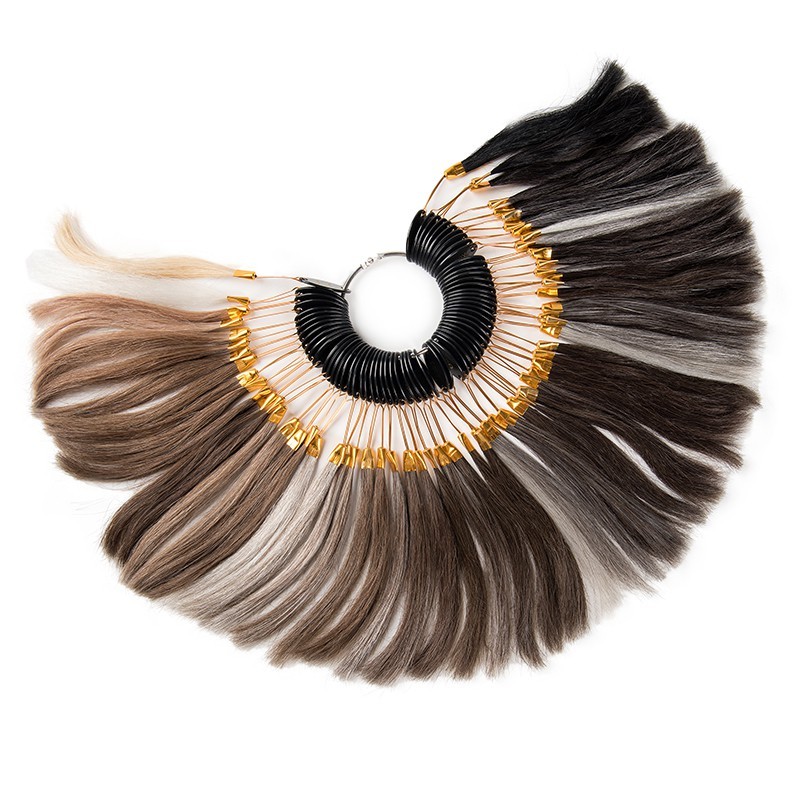 Wigs, Hair Extensions, and Hairpieces Color Charts
It's crucial to get the exact colors you want. Choosing the wrong hue will destroy everything, whether you're trying to match your hair or achieve a specific look. With our color chart, you can now become acquainted with all of the colors we provide. With confidence, choose your wigs and hairpieces. And, now that you're aware of your possibilities, you can make a better-informed decision about your purchase.
Wigs, Hair Extensions, and Hairpieces Color Charts
Hair color charts

are similar to dress sizes in that they differ from store to store.
Hair extensions, wigs, and hairpieces can be color-coded in two ways. 
Hairpiece Color System
1.The number system is the first system. 
It has well-known colors such as #1 = jet black, #1b=off black, #2=brownish black, #4=dark brown, and so on.
1.The supplier or brand determines the second system.
The colors are labeled and described according to the numbering systems and descriptions used by the suppliers or brands.
How to choose Hairpiece colors
This might make choosing the color of your wig, hairpiece, or hair extensions online a time-consuming procedure as you compare the image's color to the image description.
If you want to make sure the hair color of the wigs, weaves, or extensions you choose the suit you, check out the hair extension color and skin tone guide, which outlines the most complimentary colors for each skin tone, as well as a few more hair color charts for you to peruse, or the wig hair color and skin tone chart.
Colors of Human and Synthetic Hair
Is the color of synthetic hair the same as human hair?
The simplest response is that they are similar but not identical. Certain colors, such as jet black, will look almost the same in both human and synthetic hair, while others, such as platinum blonde, will not (very, very similar but not identical).
There are several causes for this, but the most important is material. Because synthetic hair fibers are essentially plastic, the colors (dyes) are consistently absorbed by each strand, and synthetic hair colors can be slightly more vibrant than natural hair colors.
So, if your natural hair color is #4 and you choose color #4 synthetic hair clip in extensions, the color will be extremely near to and blend with your hair, but it will not be a perfect match. Color rings are a simple way to match your hair color or determine which colors go well with your skin tone. 
Although hair colors (dyes) are based on precise science, different manufacturers may produce colors that aren't nearly as precise, so double-check photos when shopping online and judge colors in-store using natural light.
Colors That Pop
There are a variety of less common hair colors and the standard suspects. Colors that aren't part of the color spectrum in the charts above are considered fancy hair colors... T-colors, greens, dip-dye, blues, purples, ombre, gold, tricolors, reds, pastels, pink, silver, grey, and similar colors come to mind. Many of these colors are available in both human and synthetic hair, with the synthetic hair variants being more vibrant for the reasons stated above.
Pros 
Compliment your features
Add Shine
Add Dimension
Add body
Add fun
If you're like most women, you've probably experimented with different hair colors at least once. When we choose a whole new hue, it's usually because we've grown tired of our previous one's "same old same old" appearance. Did you know that hair color has several other advantages, in addition to being a simple way to freshen up our appearance? 
---