How to Find the Best Men's Hair Piece for a Natural Look?
Views: 1318
When it comes to finding the best men's hair piece for a natural look, you have to be selective about the features. These kinds of toupees are made differently, compared to others, and depending on your specific facial features, the type and style you choose differ from that of another person. Regardless, lots of men still ask this question, along with numerous others related to this problem. Fortunately, there are answers for everyone.
Can I Find the Best Men's Hairpiece for a Natural Look?
When you begin to grow bald, getting a toupee gradually becomes an option to consider. And when that happens, you're sure to ask if there's one out there that looks and feels like your real hair. Well, the answer is yes. No matter your way of life, age, or personality, you can still find the best natural-looking men's hairpiece, if you know what to check for. And below are a few of the features you need to consider when doing this:
1. Base Type
The first pass for a natural-looking hairpiece is the feeling that you're not wearing one, to begin with. And the type of material the base is made with plays a huge role. For this, you get two options; mesh fabric and polymer.
Mesh fabric types range from silk to nylon, polyester, and even lace. And while mesh fabric hairpieces generally feel comfortable and milder on your scalp, the texture of each material differs. Generally, mesh fabric toupees are the most breathable, and of all the fabrics, silk is the most soothing to the scalp, followed by lace, then polyester. 
Polymer base hairpieces can be worn for extended periods and in some cases, slept in. But they trap heat between the hairpiece and your scalp, so you must check the thickness level. Know that the thinner the scalp material, the more comfortable it feels to your scalp. Also, because of the heat retention properties of the material, toupees with a polymer base are best for colder climates and mundane lifestyles.
2. Style
Hairpiece styles are designed off ideas derived from natural hair growth, and as such, not all appeal to all faces. And while some styles are universal, others work best for certain face types, skin color, and volume of natural remaining hair. So, look out for these to be sure it gives you the best natural look possible.
3. Hair Type
Natural hair toupees give the most realistic impression of hair growth, compared to synthetic types. But with a high-quality synthetic option, you can still pull off a natural look with the hairpiece. They also work best when combined with your face type, the thickness and color of your natural hair, and a style that is synonymous with your known lifestyle.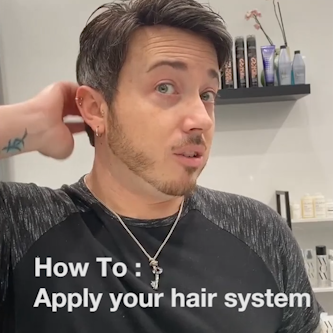 Hints That You've Found the Best Men's Hairpiece
When surfing the shelves, you may feel overwhelmed by the numerous impressive styles and designs. However, your singular aim is to find the best toupee that reflects your identity in the most convincing way possible. So, to be sure you've found the right product for this, look out for the following hints:
● The hairpiece color must blend perfectly with yours. An obvious disparity between yours and that of the hairpiece will have people asking what happened to your hair.
● If you want a gradient between both, choose a hairpiece style that's close in hue to that of your natural hair. This way, you achieve an appearance that gives the impression your color shade is going through a natural transition.
● Go for styles that work with your face type and personality. Not everyone can rock an Eros hairpiece, and Mirage looks best on younger men than older ones. Choose styles and color shades that resonate properly with your current stage of life.
● The best natural-looking hairpiece will have you wearing it for at least a day without the need to touch or adjust due to discomfort. And this rests on the base scalp, so make sure you choose the one that works best with your skin.
Final Thoughts
Seeking ways to find the best men's hairpiece for a natural look? Well, you've got it! With these tips, your search becomes easier. Remember, the best hairpiece is one that feels like a natural part of you. And if you're still confused with where to begin, Oceanus Lace Front with Skin in the Back is a good style to start with. 
---