The Process of Hair Regeneration for Men
Views: 1179
Non-surgical hair removal may be a great choice for people with hair loss who want a receding hairline of hair look but with no medical procedure or surgery ever.
By improving production processes, it isn't a problem to achieve a realistic look. Although it seems personally embarrassing to some people, it is inexpensive, safe, and secure after all. It is also necessary to consider the existing advantages and disadvantages for hair reduction clients before they purchase a hair system. Let's get to know what a men's hair regrowth system is. 
What is a Hair System, and how does it work?
A hair device is a fake or high-quality human hair headpiece or partial wig worn to conceal bald spots or for artistic activities. It's also known as hairpieces, toupees, or sections. A hair system may be created from human hair, fibre, or animal hair. Amongst them, the most costly European hair is attributable to its smoothness, and the dark and straight Asian hair is inexpensive because the producers need to strain or bleach before using it. Furthermore, real hair is very delicate; even the most costly hair has to be maintained regularly and must still be substituted.
Often hair systems are tailored to a customer's requirements. They are kept with an adherent or a rubber band around their heads. A good hair system can fit the client's hair, which requires hair color, hair thickness, texture, straightness, etc.
Most polymers, fibres, or a mixture of both are the foundation of a hair structure. The mesh fabric is more specifically synthetic and untraceable and is very lightweight and convenient to wear, while polymers are sturdier and less costly, and can be attached easily.
The sustainability of a men's hair regrowth system is determined by several factors, including hair shape, foundation, and proper maintenance. A French laced hair system, for example, usually lasts four to six months, but if you want an extremely thin skin hair system, it can only last two to three months.
A hair system could affect any area of the hair. Hair systems, in particular, with a strong adhesive, binding, and weaving connection can be affected by the system. It's also important to note that how you style your hair has a significant impact on your natural hair.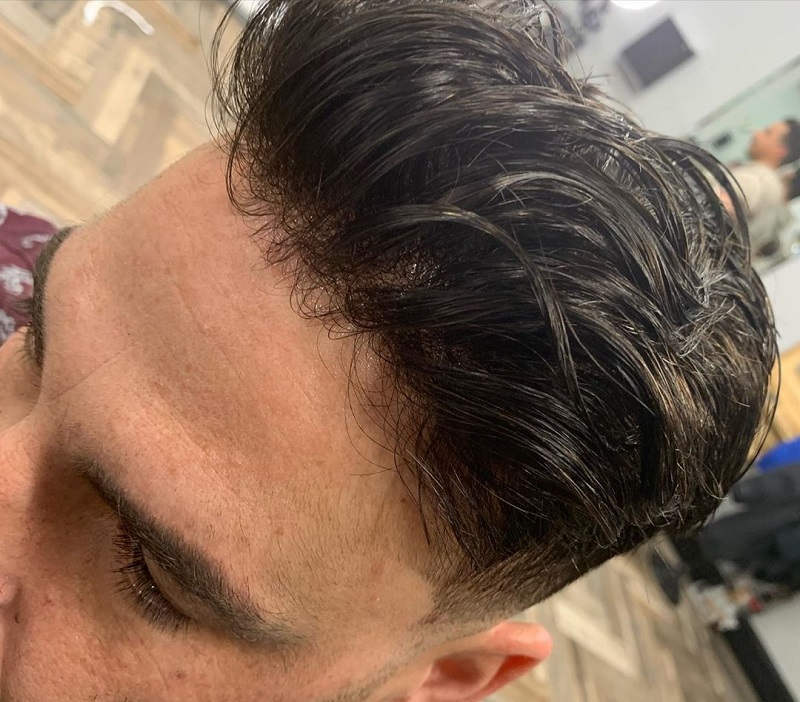 Who is using a hair system?
We typically get customers with hair loss for varying causes. Some of them are due to hereditary mutations, unequaled diets, pollution, tension pulling, chemotherapy, or any other type of scalp deformity. It is very difficult to live with compulsive cognitive possibilities of hair loss. Anyone who suffers from hair loss will still use the men's hair regrowth system to get a full hair head without undergoing severe and costly surgery. 
What are A Hair System's benefits?
Often it might be a little difficult to find the right hair system for yourself, particularly when you face a wide variety and selection of options. However, in some circumstances, there are indeed multiple benefits that you can be certainly taken: 
Instantaneous outcomes:
A new hair system provides you with a better aspect of the quick change of style. It also ensures you can tailor your hair system to your own individual preferences and that you can wear it for a very long time if the consistency is decent enough. 
Lower premiums:
Getting a hair system is much easier than doing a hair implant, and it will also reduce potential problems such as lengthy treatment periods, bad outcomes, and postoperative complications. And if a hair system also has to be washed, repaired, and replaced, it is always beyond the reach of everyone. It's also cool because you can buy it multiply so that you can change your look effortlessly and get some money if anything occurs in a scheme. 
The mate of a patient:
Hair systems are the perfect solution for hair loss people, leading to extreme medical concerns, including cancer or thyroid disease. They are already out of shape, and the body could be too frail for a hair operation, or nearly half of the hair has already been lost. Besides, it also applies to individuals with other disorders, such as alopecia totalis or alopecia aerate.
Now, let's get to know about other issues you can remember when you buy non-surgical hair items online: 
I prefer consistency always:
Anytime you buy wigs, quality must be at the forefront of your mind. Under-standard wigs are readily detected and are soon worn out. Often buy trustworthy distributors and retailers of hair wigs and hair replacement services. Famous brands offer excellent quality hair systems at incredible prices. 
Go for organic:
Most women choose front lace or cap wigs that are naturally more relaxed and look quite normal. This wig renders them very common among men and women of any age as they build a very natural hairline. 
Quick returns:
Search for an easy return policy before purchasing. You will switch the product from the retailer with a refund policy if the product is incorrect or harmed.
Understand the scalp:
Therefore, if you have a prone scalp, it is advised to wear a wig cap before putting on a wig. A wig cap protects your hair while still preventing your natural hair from poking through the wig. 
If you visit our online store www.lavividhair.com you will find many variants of hair systems that will be an amazing fit for you!
---