What to Look for in Toupees Made By Men's Hairpieces Manufacturers
If you are seriously looking into buying a toupee from a men's hairpiece manufacturer for yourself, knowing how a toupee is made is essential. There are a number of hair piece sellers in the world. You want to be sure that you purchase from a supplier or seller that manufactures the best wigs that is the best fit for you.
Having the highest quality hairpiece is super essential. You want your hair to look as natural and as good as possible. Below are some of the essential characteristics you'll have to look for in a manufactured hairpiece:
THE MATERIAL OF THE HAIR MATTERS
Purchasing a hairpiece made of the right hair material and that you prefer is crucial. There are several different types of hair material. Below are the four most common hair types:
Non-Remy Indian Hair. This is a more affordable hair, which is collected from multiple sources. This does not guarantee the cuticles go in the same direction, leading to the problem of easy tangling. 
Remy Hair. This is a higher quality hairpiece that has the cuticles going in the same direction and guarantees alignment. Remy hair is definitely a step up from non-Remy hair.  
European Hair. These are some of the highest quality and most expensive hair types you can find on the wig market. The shine and softness make this one of the best hairpieces to have. Since the hairs are so thin, it is advised not to color treat this particular toupee. 
Chinese Virgin Hair. This particular hair type is solid. Because of its durability, color treatment, bleaching, and the like are doable on this hair. This type of toupee is becoming higher in demand because of these traits.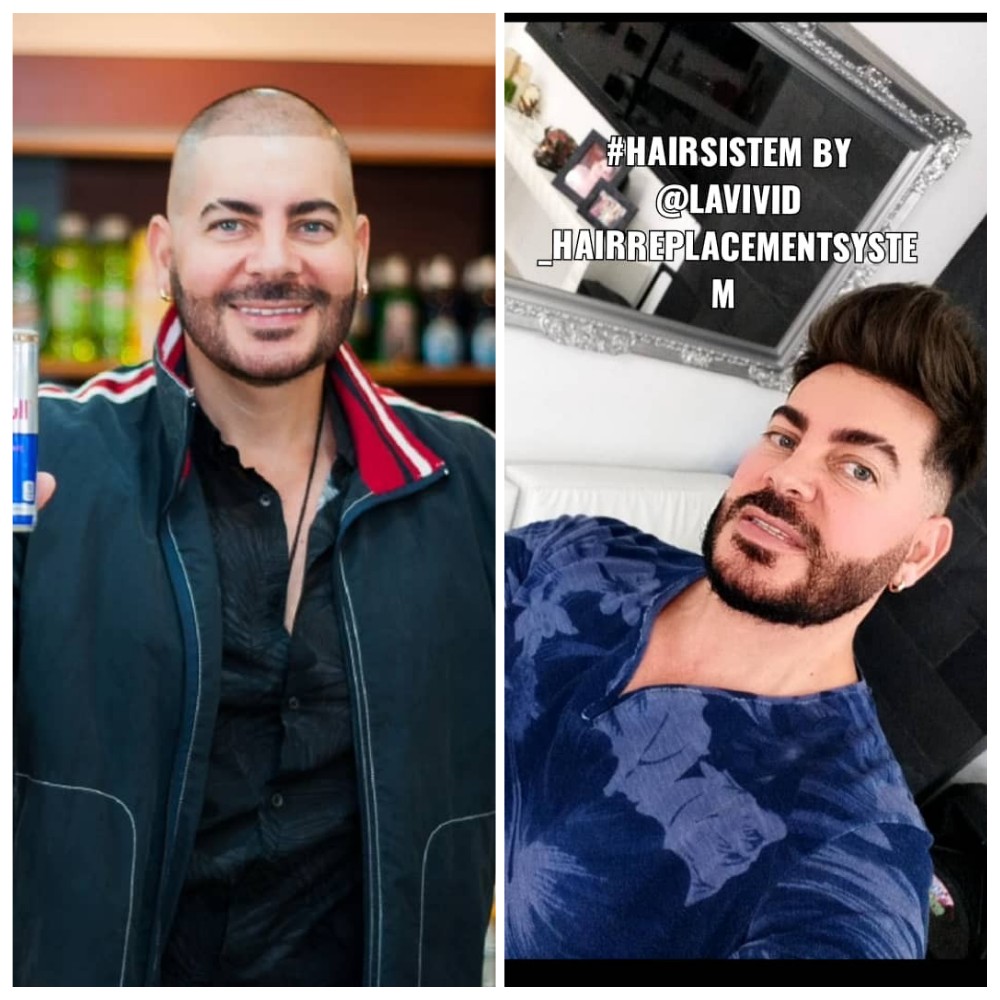 THE COLOR TO MATCH
For wigs to reach their color, wigs have to go through an acid treatment. The right amount of acid treatment is essential in that not enough acid solution, or too much acid solution can cause tangling. You want to make sure the men's hairpiece manufacturer or seller you buy from follows the right procedure with color treatment.
If you want to color, dye, or bleach your wig in the future, watch out for the material your hair is made of. As mentioned in the last section, different hair types are just not meant to be colored without destroying your wig. It is best to either buy strong hair that you can color treat when you want. Or you might consider purchasing a different color wig to avoid dying if you intend on using a softer and thinner wig. 
THE RIGHT BASE
Believe it or not, but the material your wig base is made up of is pretty important as well. From experience, you will learn what material you prefer for the base of your hairpiece. There are some materials the base of your wig can come in. Some of these materials include a weft base, monofilament base, lace (mesh) base, and silicone base. You can do a mix of two of them even. Speak with a consultant from a men's hair piece distributor or try some samples to see what you prefer.
Another tricky thing is that if wigs are glued improperly based on material or the mix of two materials, these wigs can easily fall apart. If you can help it, make sure that you purchase from a manufacturer that can glue properly and have a lot of experience working with all types of base material.
THE VENTILATION FOR BREATHABILITY
Ensuring that your head is getting enough air and isn't choked by your wig is also crucial. You do not want to feel uncomfortable with your toupee that you eventually have to remove it in front of your colleagues. There are different types of ventilation techniques in making the base, such as knotting and injecting. 
Watching out for the ventilation and how it is made is a bit trickier. Developing well-ventilated hair is not that simple. You will need to consult with a wig specialist from a men's hair seller to get the best fit. Or you can even try a sample of what they have when you're testing different bases and see which make has the best feel and ventilation for you.
Controlling the ventilation 
SO GETTING THE RIGHT WIG FROM A MEN'S HAIRPIECE MANUFACTURER IS IMPORTANT
Now that you know what to look for in a wig from a men's hairpiece manufacturer, you will make the best decision in purchasing your hair toupee. Do not purchase the first toupee that you see, and do not just go for the cheapest one on the market for the sake of covering your baldness. Make sure you have the best and highest quality hairpiece that matches. Ditch your hat to cover your bald head, and get the toupee you have always needed.