What You Could Get from LaVivid Hair Replacement Training Ecourse?
Views: 1801
Lavivid Hair Replacement Training E-course is all on how to move forward with your new life with hair. My name is Jake Kent and I am going to be your guide through this entire process. I want you to know that you are going to be well taken care of. We're going to discuss so many things inside of this course right here. It has been built to take you from absolute beginner to experience master to someone that can go about their life without having anything stopping them. 
What You Will Become Capable of after Taking this E-course?
As we move forward through this E-book, you're going to go from not knowing much at all about hair systems, the way that they're built, how they're installed, how they're maintained to really being able to handle every single aspect of having a hair system, buying a hair system, taking care of this system, so that way you can go on with your life. You live it fully and enjoy every single moment of it. 
This E-course is very important because it's easy to get over well as you moving through this new journey in your life. There's a lot of skills and information that you have to acquire very, very quickly if you want to be successful. If you have to go out and search for that information by yourself, there's a very high chance that you will become overwhelmed and when you become overwhelmed, it's very easy to give up. We don't want you to give up on this experience. We want you to boldly charged forward and have your new life with hair. Hair is a very important thing to a lot of people throughout the ages has been symbolic of youth, vitality, of virility. 
It is something that is fundamental in a lot of attraction when it comes to humans, and when it comes to human being confident with who they are. Now, there's nothing wrong, of course, with choosing another option, such as shaving the head or going with a hair transplant buffer, those that have decided that a hair system is right for them. 
This is going to take you from the very start of your journey to being able to handle most of this by yourself and find the best quality solutions. You can feel like you are alone, you're the only person going through this experience. it can be very isolating and we don't want that. We want you to know that there's a community out there of men just like you. There may even be men out there that you know that are wearing hair systems, but they looked so grave that you can't tell. 
Psychological Journey of Wearing A Hair System
No one really prepares you for the psychological journey that you are about to go on. You're about to go on a psychological journey you're about to learn new skills you're about to level up your life. You should be very excited about this course for it is going to help you navigate through all of the waters to get exactly where you want to go. 
What Specific Knowledge You Can Learn from this E-course?
It's a complete change that you're about to go through. You wouldn't believe the transformation that I have made over the past couple of years that I have started to use hair systems, But first I want you to know exactly what you are going to be learning inside of this E-course. So in the first section of this course, we're going to take you through some of the proper knowledge.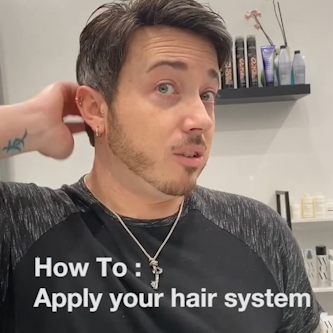 We're going to teach you all of the different things that you need to know before actually buying your hair system, before putting it on, before cutting it, before any of that stuff. This section is so fundamental and it's one of the most important parts of this entire E-course. We're going to talk about Lavivid as a manufacturer and a distributor. Why they have quality products, the type of products that they have. But we're not going to just tell you about those products. We were going to tell you what the right products might be for you, based on your life, based on your lifestyle, based on your age, based on the things that you want to do inside of your life, it's going to help guide you through all of these questions that we know that you have right now on top of helping you figure out exactly what the right hair system is for you that Lavivid has made specifically for you. 
This section is going to cover the psychological journey that you are about to go through. Some of the relational changes, some of the physical changes, some of the parts that people don't really talk about, when they get a new hair system that they don't understand, you're going to feel a lot of emotion. 
This is an extremely emotional event inside of your life, and it can be a fantastic one and we want you to be prepared. We want you to be successful. We want you to be able to walk forward we want you to know exactly what this journey is going to feel, look, taste, smell like we are going to prepare for you are in great hands. 
Once we get through that section the next section is really all about the nitty gritty, the technical details of how you actually use a hair system up to this point, you're going to understand what the right hair system is for you to buy. You're going to buy it, and now we're going to talk about how to cut it down perfectly for you. We're going to talk about the products that you're going to need on this journey, and you may not even know what this means yet. 
We're going to talk about how to bond the hair system to your head. We're going to talk about how to maintain it, we're going to talk about how to clean it, how to reinstall it, how to find someone that can cut it in meaning blended into your natural hair, so it looks like a regular haircut. 
We're going to talk about every single facet of this, and it will get demonstrate to you So that way you know exactly, how do you handle everything that comes up? 
We're going to teach you about adhesives. These are going to be liquid or tape of bonds that adhere to your hair system to your scalp. We're going to teach you how to maintain, how to style the hair system, how to wash it. We're going to go through every single facet that you can possibly imagine.
So that way you are fully prepared to not only by your unit. To prepare your unit to be installed the first time to take care of your units and make sure that it lasts. So that way you have a great look, for a great price. 
If you take care of these hair systems, they will take care of you and they can last quite a while. 
This E-course will serve you so well and will teach you so much about hair systems, and how to move forward inside of your life. Please take notes, go back and watch these videos again. 
They are jam-packed with experience and knowledge that has been put together over years and years of studying and experience hands-on, and it's all being delivered directly to you.
---