Something You Should Know about Men's Front Hair Piece
Views: 1217
Nowadays men's front hair piece is a word no longer strange to people. This sort of small fur-products does serve an important role for its portability and conveniently powerful usage. Anyone can get access to this hair tool with a huge improvement in return. But to be honest, few of them have an understanding of hair or their own front in most rounds. So let us take a look. 
Many of us would counter with express or looking issues, especially for those who are aged. It seemed that the male in the group hit harder due to their less attention compared with women. And the most common hair problems striking them often occur in the most conspicuous area – the front. Either is the backward hairline or the M-shaped one. What's worse, these shortcomings can easily grow at a horrible speed if without medical interference. Hence, front hair piece is a huge market for men. 
1. Single piece
Obviously, smaller items and samples provide a sense of security and guarantee for rookies, which in most part of the purchasers. So the wise producers are usually at the front page in the shopping website offering single pieces and samples of men's front hair. And the price they put on is effectively attractive with 15 RMB (about 2 USD) as its lowest.
However, it is a good habit to check the comments before sacrificing the wallet. And here are some aspects worth attention while scanning those sentences.
One, curl and flexibility. This means the hair piece should be soft enough to get close as possible to natural human hair. After all, no one wants to present themselves with fake hair publicly or to spend a great deal of time in hair management before going out.
Two, glue and clips. These are necessary to the viscosity and connection, also important for users' health. Because any material directly touching the human skin should be controlled strictly in terms of chemicals inside. Otherwise, the aftermath can bring much worse medical problems to a healthy person.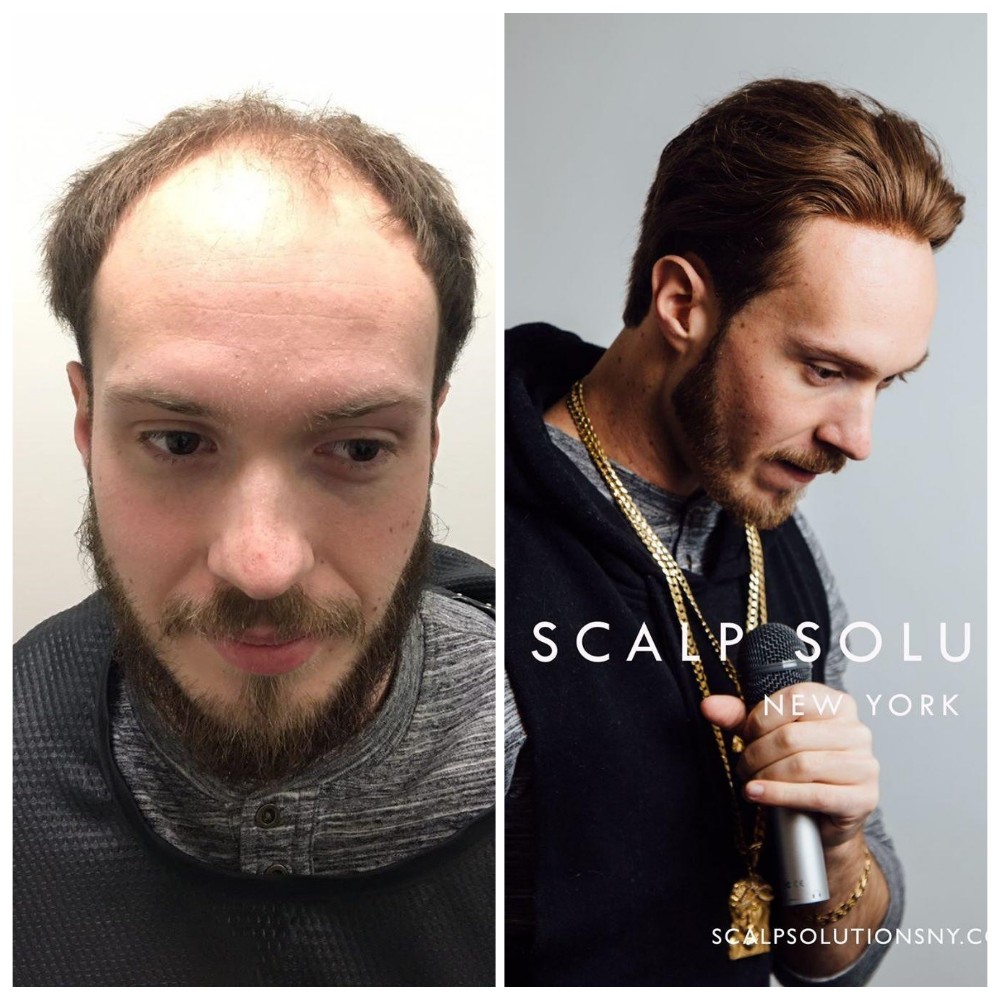 2. Whole piece
The difference between whole pieces to the product mentioned above lies in the size. With a large hair piece as a whole, it resembles a relatively small wig, particularly for the front. Compared with little single ones, whole pieces are more time-saving because they can be put on for just one take. And the contour is also fixed and stable, which makes the maintenance much easier.
But with the larger size comes the higher prices. At current markets, a whole men's front hair piece cost at least 200 RMB (about 30 USD). Also, the higher the weight number. People are prone to feel dizzy after a long-time wearing a whole one of men's front hair piece. And the situation can turn worse in summer for the high temperature.
Still, purchasers need to watch out for something before the order is done. And the chemicals and glue are, again, worth attention. Because their amount can only become more in such a big one. 
There are also some tips applicable for both sorts
First, ensure the raw material. Some producers might illegally take certain animal fur, such as fur from mice, for a lower production cost. And some producers could mistakenly select hair that is not suitable for curl. The users would not find this fact until they curl the hair piece and find it broken at once.
Second, check the guidance or instructions. Some shops would offer professional specialists for customers' guidance. Never make big adjustments to hair pieces before the scrutiny of relevant documents. Otherwise, the disadvantages would go for the buyers.
Third, figure out the source. It is important to know whether what you purchased is a second-hand one or whether it is manufactured in a licensed factory. Keep in mind that health and comfort are always above good-looking. 
That's about several parts. For more, consumers are welcome to ask for doctors' advice first, since the knowledge of someone's own conditions is more important than simply buying a men's front hair piece. But what is for sure is that everyone with this kind of issue owns their right to obtain help from products in order to have a better life. Any shame or fear is groundless for anyone, from students to workers, from young man to the old.  
---