Here Are Some Recommendations for You to Find the Skin Lace Hair System
Views: 923
The skin lace hair system, better than the average full skin or full lace hair system, can make you feel refreshing even in a warm-climate area. Durability and delicacy show up at the same time on such a hair system. In this article, we have introduced several excellent lace skin hair systems to you.
Skin hair and lace hair systems both have their good side and bad side. Products are always under improvement by sellers and manufacturers intending to provide the best user experience to clients. Therefore, there are more and more hair systems combining thin skin and lace. By utilizing their advantages, the product performance is enhanced. 
Lavividhair, an online store dedicated to offering premium-quality toupees for men. Upholding the philosophy of supplying the most comfortable-to-wear wigs and helping clients to regain their confidence. The skin lace hair system sold by this store will be a perfect choice to get you out of the suffering of baldness. There are skin, lace, mono, and silk hair systems available in the store. Customization is also offered by it. 
There are full skin base and full lace base hair systems. The following content introduces hair replacement systems made up of these two materials. 
Oceanus Men's Hair System Online
This product has a French lace front with PU skin in the back. A wonderful men's toupee gives you natural hairlines. It looks like that the hair directly grows from your scalp. With the lace front, the hair system is quite breathable and light while having thin skin in the back, it is more durable than the average full lace wig. Also, it is easier to apply and remove. 
The hair density is 130%. The original hair has a slight wave, which you can straighten if you do not like the curly hairstyle. Due to the thin skin in the back, the product can last about 6-9 months. That is to say, you don't have to change it frequently. It is very convenient and lasting. The cost is no more than 300 US dollars. Some photos are showing its details in the Lavividhair. If you are interested in this item, you can enter the name in the store.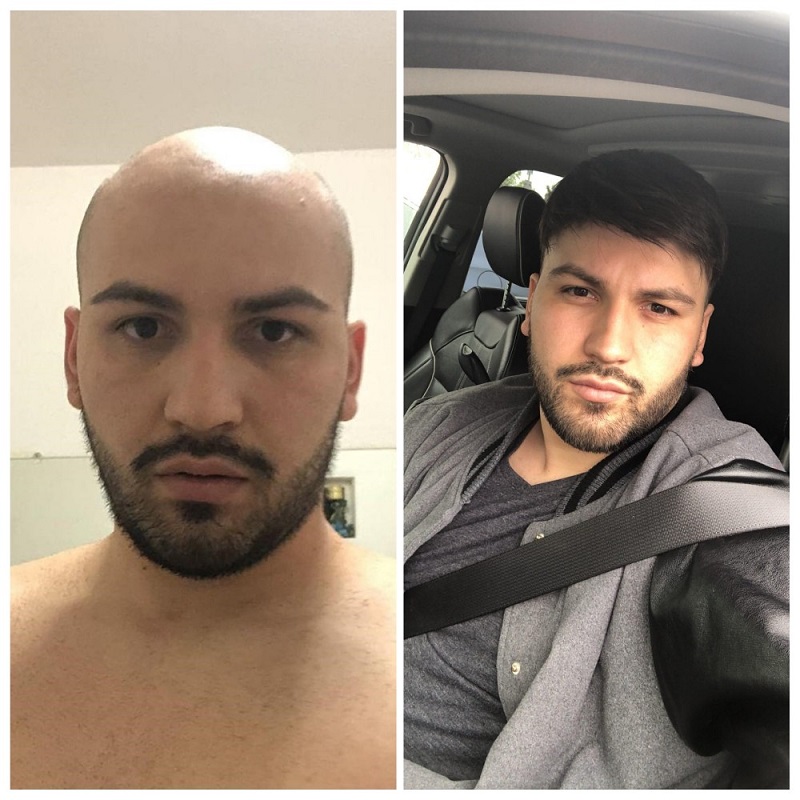 Crius Men's Half Wig
This hair replacement system has french lace in the center with poly skin all around. If you travel a lot, this product will be a must for you. Because the major part of the system is French lace, it is extremely soft, light, and breathable. At the same time, the skin around makes it easy to be attached and removed. You can cut the base if it is too large for you, but not too much because the perimeter of the poly skin is not very long. 
Crius offers a wide range of colors for customers to choose from including cool-toned brown and dark black. At the price of 378 US dollars, the product has high cost-performance. Many customers have reflected that this is an amazing and great skin lace hair system. 
Ares Men's Non-Surgical Hair Replacement
As one of the recommended products in the store, the hair system undoubtedly can give you a nice hair appearance. It is perfect for daily wear. Having French lace in the front and skin in the back and each side, it also combines the features of breathability and easy application. Wearing this lace hair system, you can change your hairstyle into any trendy one. 
The hair density is 95%, made of complete Indian Remy human hair. It can last about 4-6 months. The price, 349 US dollars, is reasonable. Based on customers' reviews, the incredible hair system is easy to work with and nice to wear while exercising. 
These are the three main lace skin hair systems we recommend purchasing. Of course, there are other wonderful toupees for men in the store. Under the description of each product, the steps are teaching you how to apply it to your head. The product quality of the store is reliable. 
Summary
Lavividhair is a professional store helping customers to solve their hair loss problem. Hair loss is a common problem nowadays. As soon as you find a hair system that suits you the best, you can regain confidence. We believe you can purchase a satisfactory one here.
---