Reasons for Black Men's Wigs Hairpieces Are Great Choice
Views: 734
Are you the kind of person who always wonders why people wear black mens wigs hairpieces? If yes, then you probably don't have an idea why you should also endorse the same. Most people especially the youthful ones tend to associate wigs with the elderly; however, the truth of the matter is that hairpieces are meant for any person regardless of their age. If anybody has ever told you any negative thing regarding wigs it's probably because they have never won them or are jealous that you might appear smarter than them. Don't take fake news, they will mislead you! Read this post and get to know why you should be wearing black men's toupees.
YOU WILL SAVE MONEY WITH BLACK MENS WIGS HAIRPIECES
The idea that wigs can save you money may sound strange but did you know that it's true? The initial cost may seem as if it's too much to bear, but if you put into consideration that you'll use your wigs for as long as possible you'll love the deal. With black men's toupee, you will save in the sense that you won't have to make those trips to the nearest salon every time you need a new hairstyle. You will simply wear your wigs and have your desired hairstyle in a matter of seconds.
* BLACK MEN'S WIGS DISGUISE HAIR LOSS
Let's be honest and face the truth. Dealing with hair loss can be frustrating and nobody would ever want to experience such an occurrence. Unfortunately, it does occur due to several reasons such as weight gains, disorders, stress, etc. I'm pretty sure that you have seen people trying to manage hair loss. It's not only frustrating but can also give you a feeling of embarrassment. You can spend huge amounts going for therapies however nothing will restore your appearance quicker than a wig.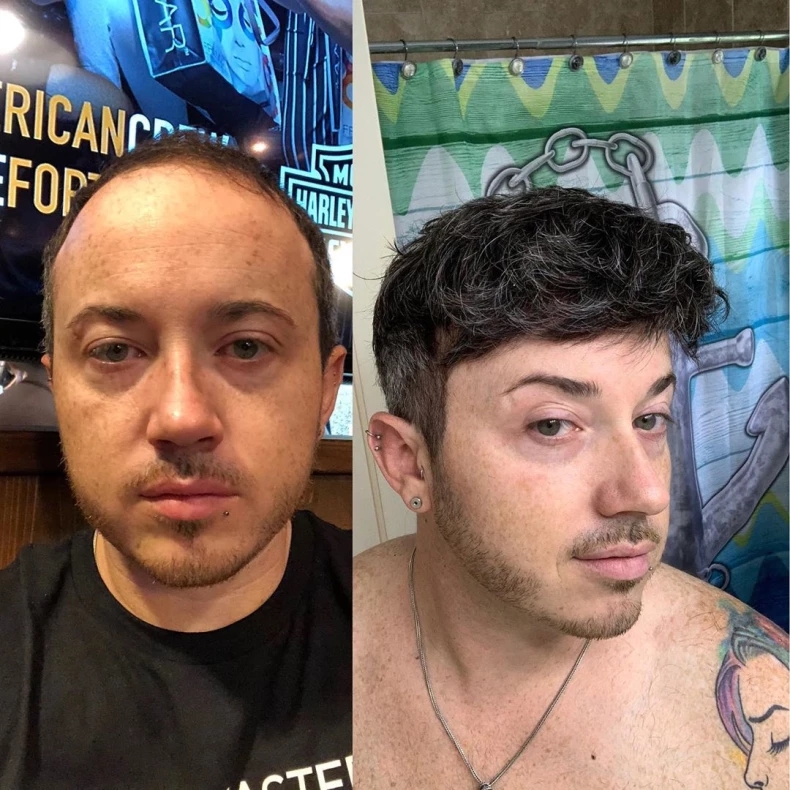 * YOU WANT TO SAVE TIME WITH BLACK MEN'S HAIRPIECES
If you have a busy schedule or just have no time to wake up early and make your natural hair, toupees could be all you need. Sometimes you may receive urgent calls from your workplace requesting you to report as soon as possible or a friend may invite you for dinner and you want to wow them. At such moments you would have not enough time to a saloon or a barber. All you want is your hair to look outstanding as soon as possible. But how would do that if not with the help of black men's wigs hairpieces?
* PROTECT YOUR NATURAL HAIR WITH BLACK MEN HAIRPIECES
If you love your hair, you will protect it always. There are certain moments during which you will notice that your hair is showing signs of disorders. For example, you may notice hair loss, browning of the hair, etc. During such moments, you are encouraged to wear wigs. This is because they will give your hair protection (the hair underneath the wig is covered and protected thus not exposed to further disorders). Wigs will not only protect your hair but also give it enough time to regrow.
* EMBRACE MODERN TRENDS
You have seen it by yourself – the world is changing daily. If you don't change with the world, don't be frustrated if you are the only person left behind. But wait, why would you want to be left behind anyway? Almost every day we see celebrities on TV with new hairstyles that we adore and wonder where on earth they get such amazing styles. Today I bring the secret to you. It's all about wigs. So if you are inspired by your top celebrities' style, then it's time you embrace wigs.
CONCLUSION
If you have read this post keenly, I do not doubt that you have captured the gist. Your hair is one of the most important aspects of your life that affects how other people see you – needless to say, you want to look neat and smart. Whereas you can easily achieve this with your natural hair, at times doing so can be costly. You may not have as enough cash to spend and that's why wigs are a great choice. A one-time purchase can save you an amount equivalent to what you'd spend in the next five years caring for your natural wigs!
---