Reasons for You Need A Men's Hairline Toupee
Views: 2024
Are you wondering that what is a men's hairline toupee? A men's hairline hairpiece is a unique kind of wig made just for your hairline. Meanwhile, there are many forms, fibers, and types of hairline wigs in the market, and the possibilities are endless when you want to choose the right hairpiece for yourself. 
When people are getting older, it is normal for most men to go through a pattern baldness condition, which is highly dependent on genes and hormones. While thinning hair over time is natural and happens to everyone, it still causes severe anxiety for some people. Before buying a toupee, the first thing you should do is to go to see a doctor. 
After seeing a doctor and finding out what causes your hair loss, there are lots of medical methods that can help you slow down all the hair loss symptoms. In the meantime, if you want to regain some of your hair, you can also choose to utilize some organic or herbal methods. But unfortunately, there is no permanent treatment. Therefore, many men prefer a hairline rug over long-term medical treatment. 
According to different people's demands, hairline hairpieces can be designed in various materials, forms, types, colors, etc. Men with early signs of baldness with only a hairline rug do not need a hairpiece that can cover the whole head. 
If you have decided to buy a men's hairline toupee, you need to decide on one most essential feature. That is, toupees made for hairlines are mainly designed in two ways, forward direction and backward direction. Your preference of hairstyle decides which direction of the toupee is suitable for you.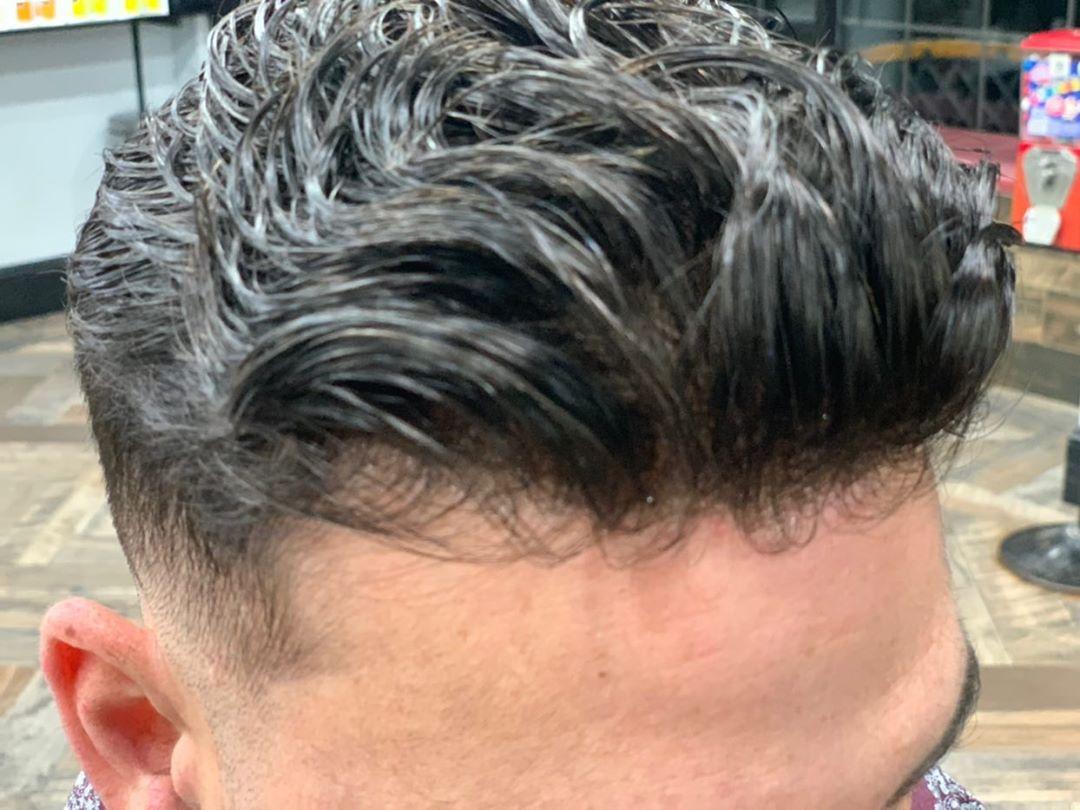 A hairline wig cannot be altered or changed once it is sewn into any kind of material that you choose. Therefore, first, you decide your favorite hairstyle, then the type of toupee. For example, if you prefer a pushed-back hairstyle with an exposed hairline, you should choose a backward hair direction. However, if you prefer a hairstyle with bands or any other hangings, you should always choose a forward direction one. 
By using statistical data, there are more than 80% of men who wear hairpieces prefer hairline toupee instead of full head toupees. And why are these kinds of hairpieces the best option for men? There are many noticeable qualities of men's hairline wig that convince people to choose them. 
First of all, the most important reason is that hairline toupee can be perfectly blended into your natural hair because many hairline wigs come with newly grown hair at the front to make them undetectable. Even though it takes you some time to get used to it, your hairline will blend seamlessly and look extremely natural just after you are familiar with it. 
Secondly, a hairline hairpiece is breathable than any other kind of toupee. It is good to provide a breathing space for maintaining the health of your scalp. Also, a hairline hairpiece is relatively lightweight, and after wearing it for a whole day, you may even forget you are wearing a toupee. Meanwhile, the lightweight feature makes it easy to style and apply. 
Third, men's hairline toupees are very adaptable. No matter what you choose to wear, you can always find a perfect way to wear them, tied up, hanging, or slicked back. At the same time, if you wear them correctly, they are set firmly, and you do not need to worry about it will be blown away. 
Fourth, in recent years, there have been a lot of advancements in both technology and material due to the application of hairline wigs. They do not require you to shave your hair anymore, and you can secure all your hair easily, then wear a hairline toupee that blends in naturally with your hair. 
After introducing all the strengths belonging to a hairline toupee, last but not least, make sure to buy a quality hairline wig from reputable brands and companies to ensure that your toupee stands the test of time. After all, everyone wants to make his purchase worth every penny, and they do not only want to buy a toupee that lasts for a longer time and want it to maintain a pretty good condition.
---