Reasons for Thin Skin V-looped Stock Mens Hair Pieces Deserving A Try
Views: 3137
If you have never heard about thin skin v-looped stock mens hair pieces, it means you are not a professional wig wearer or the base you wear is not made from skin, but rather from other material. Skin is a great wig material to take a look at and consider for your next wearing session. If you ever choose to try a thin poly wig off-the-shelf, the following piece of information will be useful in helping you to get a better understanding of this type of hair system. 
What does v-looped mean?
When you hear thin skin v-looped stock mens hair pieces for the first time, you might get a little confused. You may find it difficult to understand the mysterious "v-looped". Luckily, there is nothing complicated about it, as it just refers to an injection technique where the fibers are looped into the base in a V shape. 
Such technique is mainly applied on extremely thin poly bases to provide the hair strands with more resistance and reduce the risk of them breaking through the fragile skin when the wearer is brushing or is playing around with his hair. A thing that the v-loop is endlessly praised for is the natural look and feel it provides, where the hair can be freely parted in all directions and gives the impression it grows directly from the man's scalp. 
A skin base is also transparent so it's impossible to detect it if staying at a reasonable distance from the wig wearer. Generally, the v-loop is used with two types of skin base: 0.03 mm thin and 0.06 mm thin. The first type is more natural looking, but it may lose a bit in durability. 
V-looped hair vs knotted hair
There are some differences between v-looped and knotted hair, and each of the techniques comes with its advantages and drawbacks. If you ask whether the v-looped hair is the best, it's hard to answer. For one, the manufacturer can make the hair look in any direction, which adds to its natural appearance and enlarges its styling potential. Knotted fibers are set to stay in one position and aren't flexible enough to be styled to the wearer's desire.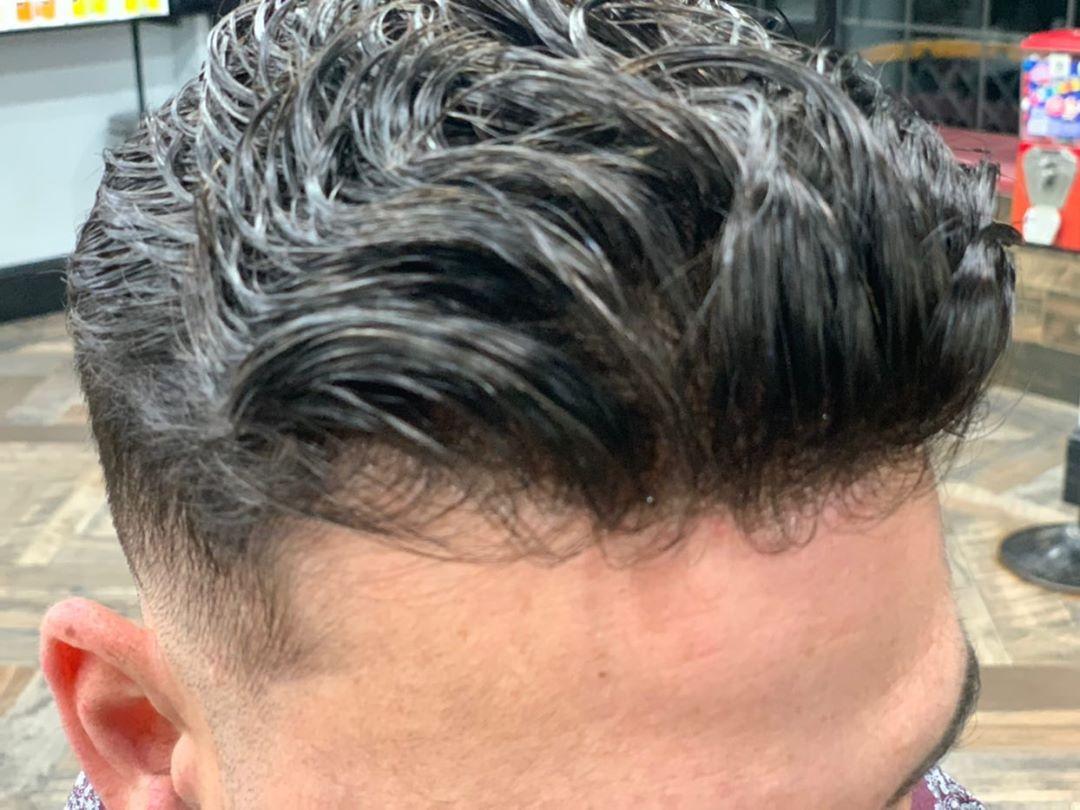 When it comes to breathability, both techniques are good performers. When you inject the hair, the needle creates a lot of tiny holes that would later work together as a ventilation device. Knotted hair is better when it comes to durability. The knot tends to be more resistant than the loop to pulling. 
Advantages and disadvantages of V-looped hair
Considering that it is injected into an extremely thin skin base, the looped hair requires to be treated with much care and gentleness. You should refrain from pulling the hair and combine it with a harsh brush, as it can easily make the looped hair cut the base and burst out under extreme tension. Another drawback that you may want to know about is that poly v-looped wigs don't keep the scalp warm in cold weather, because they are ultra thin and have tiny holes created during the hair injection. 
This feature may be easily turned into an advantage by those who live in areas with hot weather, as they will enjoy much ventilation and will stay safe from sweating when doing intense exercises. Another upside you can enjoy in a v-looped poly base is that the hair can be parted in any direction you wish. This allows you to try a myriad of hairstyles that you wouldn't be able to with thick and knotted wigs. In addition, skin is compatible with both tapes and glue and allows them to be removed much easier than from other bases. 
Final thoughts
If you look for a wig to wear in hot weather, thin skin v-looped stock mens hair pieces is your perfect choice. V-looped refers to the V-shape of the injected hair. Besides good breathability, you will get many other advantages such as natural look, undetectable base, easy hair manipulation, and compatibility with both tapes and glue. V-looped poly wig is extremely thin which makes it less durable. That's why you have to pay much attention to hairpiece maintenance and avoid pulling it with vigor. A soft-toothed brush combined with gentle motion would do great in fighting tangled hair.
---