Why Wearing Mens Long Hair Piece Is Cool
Mens long hair piece might look confusing and uncommon, but it's in fact a cool hairstyle to try in your lifetime. While many people associate long hair with women, men wearing long strands become a trend among men of all ages due to many reasons. Here is a list of benefits a male long hair piece provides that will help you reconsider your opinion about this hairstyle. 
1. Helps stand out from the crowd
How many men with short hair do you see on the street on daily basis? A lot, isn't it? We are sure you would answer "not many" if we asked the same question about men with long hair. Men with long hair piece are only a few among us, which makes them look more attractive and stand out from the crowd. Short hair is not an as strong eye-catcher as long hair is, because it is something common, something that you find in almost every man. So if you want to make women stare only at you, you have to equip your head with a long and fashionably styled mane. 
2. Symbol of masculinity
It may come as a surprise, but it is true. Long hair is considered by women to be a symbol of masculinity and strength. It helps you tell the world about your free spirit, unconventionality and lack of fear in front of major changes in life. It makes you look wild, self-confident and always acting bold, which ultimately may raise your self-esteem. You can wear a long wig even if you are not that kind of a wild person and actually suffer from low self-esteem. It will help you to fight your fears and boost your self-respect, knowing how people see you with this bold look. 
3. Variety of styling
Mens long hair piece allows for more styling opportunities. You have a large quantity of hair that you can manipulate in any way to create the most appealing hairstyle that would leave any woman speechless. You can wear your hair in a bun or a top knot, leave it loose or curl it up to make it fancy and eye-catching. Truth be told, you will have to spend more time on grooming and maintenance, given the abundant mane that is easy to tangle and frizz over time. To avoid these issues, you may want to remove the wig before sleep. In this way, you save time on detangling, brushing and conditioning. You get a neat and flat hair that is ready for a new breath-taking hairstyle without initial preparation.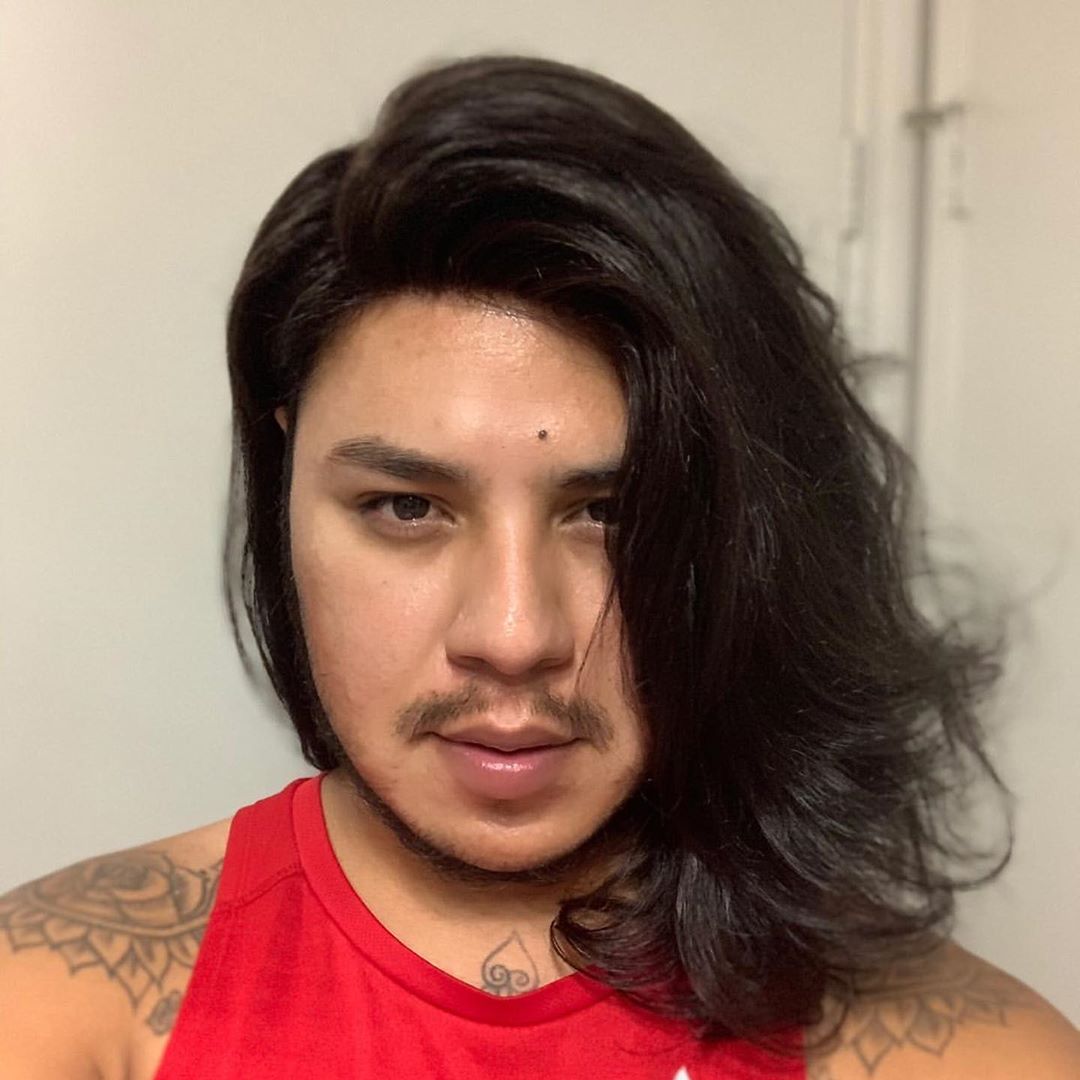 4. Protection against cold weather
You can wear a mens long hair piece wig not only for beauty purposes but also to add to your comfort and safety. If you live in a cold environment, or if there is currently a harsh winter outside, you may opt for a long hair mane to keep your scalp and ears warm. Short hair wigs are not that protective, especially the lace hair pieces which are made for hot summer days allowing for intense air circulation through the wig base. If you buy the wig for keeping you warm, you may choose a monofilament wig if you don't like the long hair. A short hair monofilament hair system has a thick layer of fabric acting as a base, which restricts air circulation and is highly efficient at stopping the cold airflow from blasting your delicate scalp.
5. More beautiful highlights
You can make your long hair wig even more effective and attractive by creating highlights which are more visible than on the short hair. However, you should be careful, because lightening the hair from dark to blonde is too much of a shock for human hair so it may end up in severe damage. Still, you are totally allowed to insignificantly highlight the hair, creating a tiny transition on the color spectrum. It can be, for example, a smooth transition from a walnut brown to a caramel brown, which isn't supposed to damage the hair, since you use a tiny amount of bleach. 
Conclusion
The mens long hair piece provides you with more benefits than you could ever imagine. Aside from being a symbol of masculinity and charm that attracts people's attention, it also allows for many styling opportunities and protects your scalp, neck and ears against the cold during harsh winters.