Something You Should Pay Attention to When Use a Wig for Men's Hair
Views: 1377
Wig for men's hair is seen commonly. Men who suffer from baldness or hair loss can be sensitive about the subject. There are many medications available in the market. Furthermore, if you do not want a wig for men's hair you can also go for options like hair transplant or other treatments. However, these methods will cost too much. There is no reason for men to shy away from a tool to help boost confidence with lace front wigs. Male pattern hair loss, sometimes referred to as alopecia, affects many men. The purchase of wigs is becoming more popular among women, but wigs are not as common among men.
Best Wig Style Ideas
There are numerous ways in which you can style your wig. However, you can also buy a pre-styled wig for men's hair. In addition, you can style them from shortcuts to longer elegant styles. Here, we've listed popular style ideas of wigs for men's hair. Let us have a look 
Long Wig
No matter what material or style you choose, long wigs are always elegant. You can choose one or both of those to enhance your best features since they are both made of high-quality materials.
Short Wig
Another style of wig includes is the shorter one.
Playful, flirty, and fun are some adjectives that describe short wigs. These short wigs comprise heat-friendly synthetic hair. Synthetic hair gives you numerous options to style your hair other than the mentioned ones. synthetic wigs which provide added styling options and shine strikingly in the light. 
Wig with Fringe
Everyone loves a fringe, especially when paired with gloriously rich black wig tones. Whether you're looking for a thicker more obvious fringe or a lighter layered fringe, black colors help to emphasize the chosen styling options.
Black Bob Wig
You can style your bob in a wide variety of ways that emphasize natural shine and volume. The look is particularly appealing when combined with long, dark hair color.
HOW TO WASH YOUR WIG PROPERLY?
Once you get a wig for men's hair, it is now your responsibility to maintain it for a longer run. Washing frequency greatly impacts the lifespan of a wig, so you should control it carefully. Wigs will last less if they are over-washed and improperly cleaned. If you have a human hair wig you usually need to wash it once every 6-8 weeks, and if you have a synthetic wig you should wash it once every 4-6 weeks.
HOW TO WASH A WIG PROPERLY:
 Make preparations
Several preparations are necessary before starting the washing process. A comb or brush designed specifically for detangling wigs should be used to gently remove knots.
 Washing
To avoid damaging the wig, rinse your wig under a running faucet. Avoid using hot water to prevent damaging it. However, if your wig has short hair, you can rinse it with running water in the washbasin at room temperature while it is under the tap. Whereas, if the hair on the wig is long, it is recommended that you rinse underneath the shower tap so as not to tangle it in the sink. Next, rather than twisting the wig, gently squeeze it with your hands to get rid of excess water.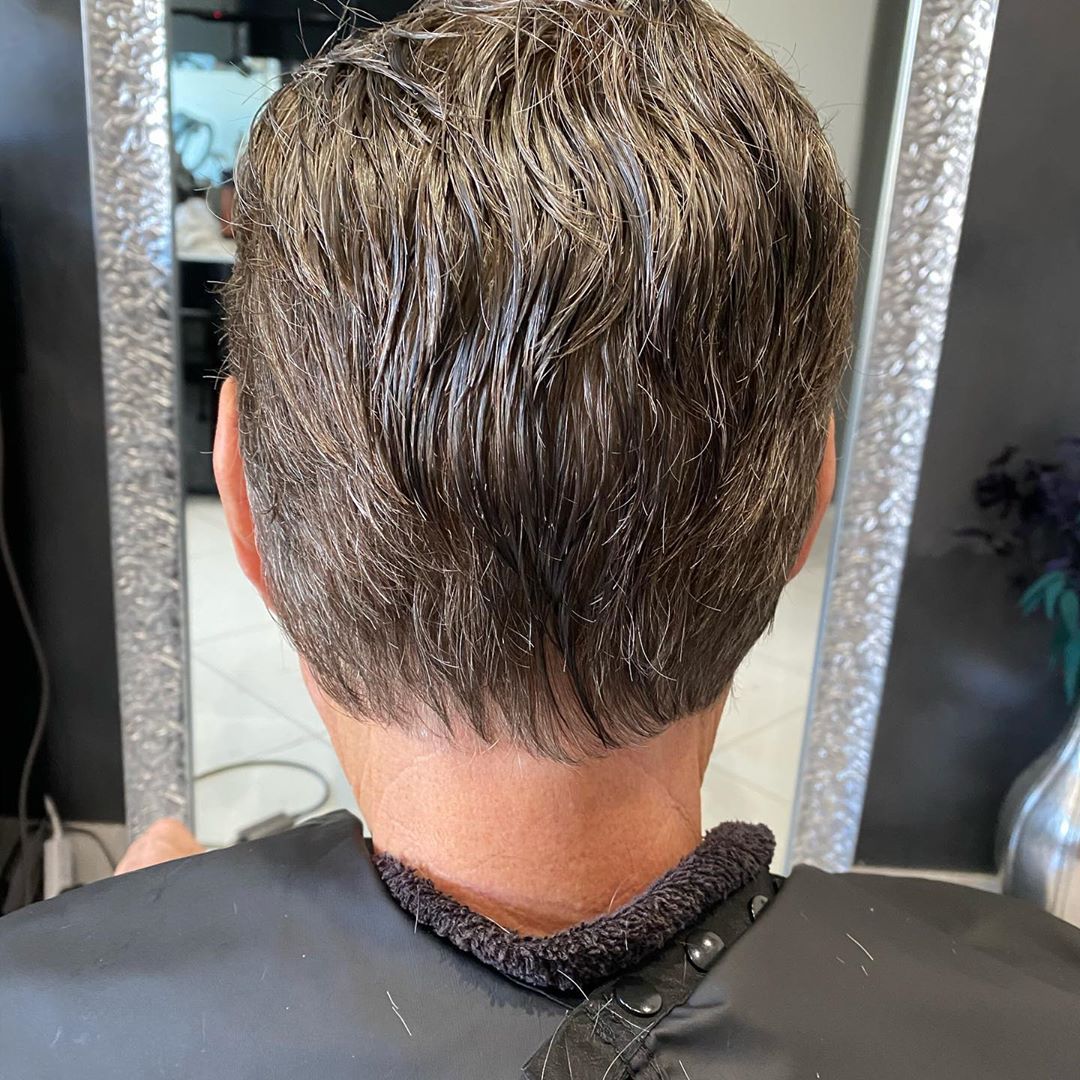 Shampooing
The third step to clean a wig for men's hair is shampooing. It aims to make your wig clean.
 First of all, massage a small amount of shampoo into your palms and then into your wig by starting at the root and working your way to the tip.
 You will need to rinse your wig from top to bottom and gently squeeze excess water out using your hands as in the previous step. 
It is also important to rinse your wig gently at this step so as not to damage it.
Conditioning
To make sure your wig is full of life, you must add nutrition just as you do to your natural hair.
 On the palm of your hand, spread a small amount of the hydrating conditioner evenly into your wig. 
Make sure not to apply conditioner to the base of the wig as this could result in wig knots falling out. 
You can begin rinsing your wig after leaving the conditioner on for three to five minutes. 
Remove all excess water gently with your hands after rinsing the conditioner thoroughly. Avoid twisting.
Drying
The final step is drying the wig for men's hair. Allow your wig to air dry after drying it gently with a dry towel. This may take a few hours, but it contributes to a longer lifespan for the wig. To maintain its shape, place your wig on a wig stand and let it air-dry. Blowing your wig will damage it, so you should avoid or minimize blow-drying wigs. A natural drying process is the best way to ensure your wig will be protected from damage.
WHAT TO CONSIDER?
Whenever you have multiple options of real wigs for men, the choice will be hard to make. Therefore, you must choose a wig with considerations:
Purpose of buying: 
Wigs serve a variety of purposes depending on the individual. Before purchasing a wig, you should determine its purpose. As soon as you have got a reason for buying it, you can go. However, use varies among individuals. Fashion, a theatrical performance, or hiding baldness are all reasons for wanting it. Why do you wear a wig? Make sure you know what you are buying before you do.
Budget:
A high-end wig is not for everyone. Budget is an important consideration when purchasing a wig. Human hair wigs are usually more expensive than synthetic ones, so think about your budget before buying. 
Wig maintenance: 
Although all wigs require care, some are more sensitive than others. It is important to consider whether you are capable of caring for and maintaining a wig. No matter what, do not invest your money in it if you cannot manage it properly.   
Survival:
You will get the longest wear out of your wig if you take better care of it. When maintaining your wig, use recommended products like brushes and combs. 
Exposed to heat
Wigs made of synthetic materials are sensitive to heat. When they are exposed to heat, they can easily be damaged. Human hair wigs, however, can withstand more heat. Thus, it is recommended to buy a human hair wig.
HOW TO STORE YOUR WIG PROPERLY?
The way you store your wigs also has a certain effect on the lifespan of your wigs. There's no point in wearing a wig 24 hours a day no matter how much you need it or love it. You must store your favorite wig correctly if you expect it to last a long time! Wig stands are the best way to ensure wigs remain in their original shape when stored. Keeping your wig flat on the table or in a box would cause creases and ridges, which would make it look less natural and could cause the hair to get tangled or damaged. You should keep the wig out of the direct sun, sunlight, since UV radiation may cause hair damage or fading. Maintaining the shape and style of your wigs will be easier with proper storage.
CONCLUSION
Wig for men's hair has noticeable styles. They are available in various styles, colors, and lengths. Therefore choose according to your need and consider all the factors when buying and maintaining a wig.
---