Will the Hair Replacement System Bring the Positive Effect to You?
Views: 920
Hair loss can be the biggest reason why you might feel insecure and not confident about your looks. It plays an essential part in whether or not your self-esteem allows you to have a secure and confident relationship with your co-workers and family members. All of these factors are a good reason to induce severe anxiety and stress, and, on top of everything, the constant struggle of finding the perfect and ultimate hair replacement system is the biggest challenge for anyone who is going through severe hair loss. Many of these people start by trying different drugs and medications, but the truth is there is no such thing as a miracle pill or a magical lotion that will make your hair loss go away.
Some of these people even think about hair transplant surgery, but after a little bit of research, it can be quickly concluded that these surgical treatments are not worth the money they charge. These treatments have no guarantee of working or providing effective results over a long time.
If you are one of the men going through this challenge of hair loss, it is not too dramatic of you to wish that one day you wake up with a head full of hair without spending a lot of money or going through a painful surgical procedure. However, people who go for non-surgical hairpieces claim that the experience of miraculous hair replacement systems before and after is worth the small effort of customizing your hairpiece, and it won't be farfetched to say that it feels like something magical.
These hair replacement systems give you an instant boost of self-confidence, and you will start loving the way you look in no time. On the other hand, some people might be conscious of using these hair systems because they don't want a lot of attention to their new look. This ensures that once you get the perfect hair replacements that look similar to your natural hair, it will subtly enhance your appearance without making it too obvious.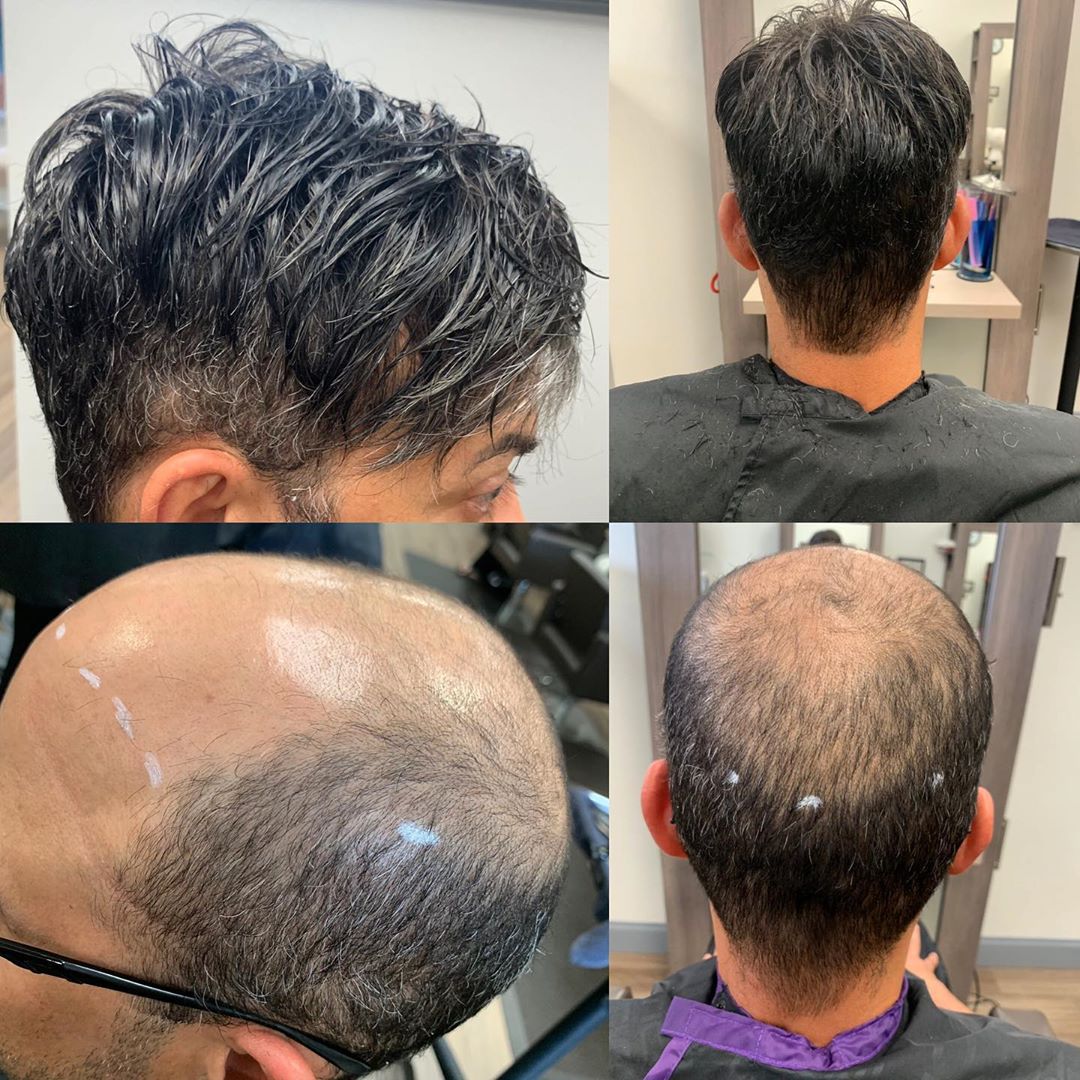 How Easy Is the Procedure?
No one in the entire world would like to go through painful surgery. Nevertheless, you still wish to get your hair back somehow. Even though it is a common expression that expectations may lead to disappointments, but non-invasive hair replacement systems will not disappoint you. If anything, these hair systems will make you look through an entirely new horizon where you can customize your hairpiece in any way you want, whether it is a simple common hairpiece or a dyed and stylish wig that will make you stand out in a room full of people. Since hair loss happens due to many reasons, one of the primary reasons for severe hair loss might be medical issues. Hair replacement systems offer a semi-permanent solution for those people who wants to blend in with everyone else. It is the perfect choice for every man out there suffering from different medical or health issues.
The procedure for this treatment is very convenient and easy to go through. A thin membrane is attached to your scalp with the help of specific adhesives or tape. Once it is fully connected, it automatically blends with your natural hair and gives an impression of a head full of healthy hair. However, to blend incorrectly, you must focus on perfecting the little details like your hairpiece's color and density. There are a lot of hair loss conditions and stages as well. In this modern era of innovation and technology, hair replacement systems provide you with various kinds of hairpieces appropriate for different hair loss conditions. And not only that, but you can also choose between different materials according to your budget and how much you're willing to spend on a hairpiece.
This whole process takes no time and, in return, gives you quick and instant results while allowing you to go back to a normal lifestyle looking 10x times better than you did before. Once you are done with this procedure, you can immediately feel the difference and will love your hair replacement system before and after the experience.
Characteristics of Good Hairpieces and Wigs
To find the highest quality wigs and hairpieces, you need to ensure certain factors and details. Some of them are as follows.
· 
Natural and undetectable:
Most of the men feel uncomfortable about other people finding out that they're wearing a hairpiece. Hair Replacement systems of the modern era have the most natural and realistic look and, there is no way that anyone will be able to tell the difference between your hairpiece and your natural hair.
· 
Light in Weight:
One of the major characteristics of good hairpieces for men is them being light in weight. Most of the men have jobs that require outside work and, if your hairpiece is heavy, it is most likely to cause you a headache.
· 
Comfortability and Convenience:
When investing in a hair replacement system, the most important thing to keep in mind is that the best hair system is the one that feels like your own hair. Your hairpiece should be as comfortable as it can be without feeling like a burden. A perfect hairpiece does not hinder your daily activities and is very convenient to carry as well.
You can look for the multiple before and after experiences of different customers on Lavivid.com while also finding the hairpiece that suits your needs perfectly.
---